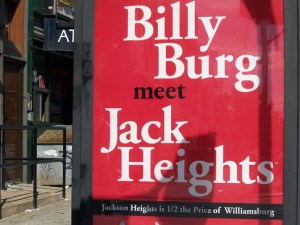 Will Michael Carfagna ever transform Jackson Heights into the Park Slope of Queens?
"It's going to take someone with deep pockets and with a vision," he said. "And if you find them, put them in touch with me."
Mr. Carfagna, perhaps best known for designing the "Billy Burg, Meet Jack Heights" and "More Park, Less Slope" bus shelter ads that ran in Williamsburg and Park Slope, respectively, aims to close the price gap between the trendy areas of Brooklyn and the Queens neighborhood he's called home since 1985.
Jackson Heights is renowned for its diversity – a mix of Hispanic, Asian, white and black populations – and the city's second-largest gay pride parade. Sari shops and Bollywood music stores line 74th Street, while tamale carts dot the sidewalks of Roosevelt Avenue. Of the 166,039 people who live in the area, over 100,000 are foreign-born, according to figures compiled by the city in 2007. Fifty-nine percent are not U.S. citizens.
Ten years ago, Mr. Carfagna founded MPC Properties, now the area's most prominent real estate brokerage. He's doing all he can to target families priced out of Park Slope, hoping to shrink the price difference between the two neighborhoods by half. (Currently, housing prices in Jackson Heights range from $350 to $450 per square foot, according to Mr. Carfagna.)
To lure clients from outside Queens, the broker launched an ad campaign in 2006 – including the bus stop posters, full page ads in The New York Times Magazine, and a billboard over the Brooklyn-Queens Expressway – and trademarked "Jack Heights," a Mr. Peanut-like neighborhood mascot.
Sales at MPC went up 60 percent in 2007 since the year before, and are up 10 percent this year, in a tough market. Mr. Carfagna attributes the growth to increased attention from Brooklynites, who comprise over two-thirds of his business, and Manhattanites, who make up a further 15 to 20 percent.
"I've invested a lot into the neighborhood," he explained, "and getting the message outside the neighborhood through these interesting ad and marketing campaigns … I have a relatively good budget to do that. But it's not the budget that a Related [Companies] would have," he said, referring to one of the city's largest developers and landlords.
Despite the success of MPC's advertising, it will take a lot more word of mouth to transform Jackson Heights' reputation. Compared to neighborhoods such as Williamsburg and Long Island City, where the number of condo developments has skyrocketed in the last few years, Jackson Heights has only one major building project to attract an influx of newcomers, the 190-unit Stratford Hall at 80-09 35th Avenue.
"The neighborhood did get built out over the years, so there's really no room for new development, which makes it unique," said Mr. Carfagna.
Many of the buildings are co-ops that date to the 1920s, when entrepreneur Edward MacDougal bought property in the area to design a "garden city" for wealthy residents of Manhattan. Much of Jackson Heights is now landmarked, making it difficult for developers to construct anything on a large scale.
"We're kind of like a mom-and-pop neighborhood," said Mr. Carfagna. "People don't pay a lot for mom-and-pop neighborhoods."
The low prices are almost as much a deterrent for new buyers as the lack of awareness, he explained. Often Mr. Carfagna's clients assume there is something wrong with his properties – "How can it be so inexpensive?" they ask – or they're wary of making an investment. When residents want to sell, "no one's showing them the money," he said.
Still, the area's first Starbucks opened this year, and Mr. Carfagna is optimistic. He has plans for more ads in Washington Heights and Inwood; he might even have a real live Jack Heights show up at neighborhood events.
"It's all about the visibility," he said.