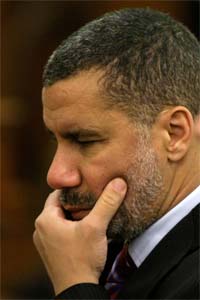 ALBANY—The political reality of David Paterson implementing his proposed cuts may be difficult.
Both of the key Democratic legislative leaders – Assembly Speaker Sheldon Silver and Minority Leader Malcolm Smith – issued statements saying they supported Paterson's proposals, but the Senate may prove a stumbling block.
Majority Leader Dean Skelos said he would like to reserve action on cuts that extend into next year – Paterson is attempting not only to address a $1.5 billion deficit in this fiscal year but to get a head start on next year – until he sees a complete budget proposal. That is currently scheduled for December 16.
"We must avoid any job-killing taxes and fee increases, which the Governor is proposing," Skelos said. "We must not simply pass costs down to school districts and local governments, and force them to raise taxes."
Skelos has been on the record opposing cuts in education aid, which, at $800 million, represented the largest chunk of cuts Paterson proposed for this fiscal year. It makes sense; school districts will see their aid reduced according to a formula that disproportionately affects wealthier areas. Many of those are on Long Island, Skelos' back yard and home to a solid block of his members. The conference is convening here tonight.
Silver called Paterson's package "a bold plan" and vowed that "the Assembly will not shrink from tough choices and plans to confront New York's fiscal crisis head-on, based on the principle of shared sacrifice."
He has convened hearing starting Thursday by the Ways & Means Committee to prepare for a special session next week.
Malcolm Smith said Paterson took "the courageous first step of reducing spending" and vowed to work with him. His support was unqualified, if not unspecific. But he may have a harder time following through on it.
State Senator Ruben Diaz, an independent-acting Democrat from the Bronx who is part of the "gang of three" issued his own statement this morning expressing displeasure with the cuts. "This proposal by Governor David Paterson, includes cuts to programs and services for the elderly, cuts to our children's education, increases in college tuitions, cuts to health care services, hospital closings, cuts to Medicaid, cuts to programs and services for the disabled, cuts to mental health services, salary reductions to health care workers such as home-attendants, nurses and maintenance workers, among others," Diaz said. "We as Democrats have fought for these services for our communities, and that is why I can't, I shouldn't, and I will not give my vote to my Democratic colleagues in the State Senate to approve these cuts proposed by Governor Paterson which will directly affect the residents of my community."
The Working Families Party also came out against the cuts, saying it was time for the 'Millionaires tax' rejected early this year but revived by social services groups.
"The Governor's plan asks school children, local property tax payers, students at SUNY and CUNY, the elderly and New Yorkers with disabilities to sacrifice. The only people exempt from the pain are wealthy New Yorkers and the Wall Street barons who got us into this in the first place. That's wrong," said WFP Executive Director Dan Levitan.
Their position is predictable, but the clout has shifted. Some Democratic insiders gave the WFP at least partial credit for helping them win a majority in the State Senate this election cycle, meaning they may be more difficult to ignore than in the past.
Couple that with Speaker Silver's stated amenability to the millionaire's tax, and it could be an unignorable option as Paterson seeks to implement his own plan.