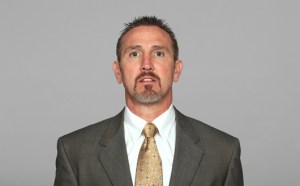 Learn how to spell the name: S-p-a-g-n-u-o-l-o, with a Steve in front of it. Oddly enough, considering he has a Super Bowl ring and is the mastermind of what is probably the best defense in football, many in the New York sports media still get his name wrong.
It's tough to play in New York, win and still be an unsung hero, but that's the case with the Giants' defensive coordinator.
More than any player, more than head coach Tom Coughlin, Spagnuolo is the reason New York won the Super Bowl last year and why they are odds-on favorites to repeat this season. As the linebackers coach for the Philadelphia Eagles, Spagnuolo made a reputation as a coach who knew how to stop Brett Favre – remember that if the Giants and Jets meet in the Super Bowl. Not just Favre, of course, but just about all of the top quarterbacks in the league — but especially Favre.
You saw it again during the NFC championship game between the Giants and Packers this past January. Hugh Douglas, the former Eagles lineman and current Philadelphia-area radio show talk show host, calls Spagnuolo "a genius at devising blitzes. Their key to beating the best quarterbacks in the league, like the Giants did with Tom Brady in the Super Bowl, is to put the pressure on. A lot of teams rushed five or six guys at him [Brady] and got nowhere because their blitzes were easy to read. Spagnuolo disguises his blitz packages. He might send four men at you, but one of them might be an outside linebacker and another a defensive back – and they might come from different sides or from the same side. You never know until you watch the films, and then it's too late."
The Arizona Cardinals may not figure the Giants blitzes out even after watching the films. They sacked Cardinals quarterback Kurt Warner only once in last Sunday's 37-29 victory, but that's because Warner gets rid of the ball so quickly. But he was hit on nearly half of his 52 passes and knocked down 16 times; on the sack, early in the third quarter, Warner was stripped of the ball by Justin Tuck, setting up a cheap Giants touchdown. Interpretations of "rushed" and "hurried" may be subjective, but on Sunday afternoon there was nothing subjective about the way Warner was harassed. The Cardinals had no rushing game at all, just 23 yards in 15 tries with no gain longer than 5 yards, which meant that the Giants defense was going after Warner on nearly every play.
It was a gamble, especially considering that the Cardinals' wide receivers — Anquan Boldin, Steve Breaston, and Larry Fitzgerald – are probably the best trio in the game and when playing against single coverage, as they often were against the Giants, are capable of breaking any pass all the way. (Against the Giants these three, together with fourth wideout Jerheme Urban, caught 27 passes for 313 yards). But primarily because Warner had so little time to throw, The Cardinals offense moved in fits and starts, and despite outgaining the Giants by 50 yards, never really developed any rhythm.
The Giants came at Warner in a 3-4, in a 4-3, in a 4-4, and, on one occasion, in a 4-3 where defensive end Mathias Kiwanuka dropped back in coverage while a safety and cornerback (I couldn't tell who, even when watching the replay) blitzed from the left.
The blitzers came so thick and fast that the Cardinals coaches never did succeed in picking them up. Cards offensive coordinator Todd Haley tried to counter with the odd tactic of spacing his five front blockers farther apart then usual to pick up the outside pass rush, but this only meant that Warner got knocked down by more blitzers coming up the middle (often linebacker Antonio Pierce and strong safety James Butler, who lined up on the outside and jughandled towards the middle on the snap of the ball).
The Giants offensive line, meanwhile, did a fine job picking off Eli Manning's pass rushers (he was hit only three times all afternoon) and, when required, to run block for Derrick Ward, who took over the main rushing duties (20 carries for 70 yards) when Brandon Jacobs' knee injury kept him out of the game. Plaxico Burress was also injured, leaving the game in the first quarter after reaggravating a hamstring, but in this game at least he wasn't missed at all.
Manning completed just two passes longer than 17 yards, and none longer than 30, but as it has been through 10 of the Giants' first 11 games, no longer throws were needed. And yet, for all the Giants seeming dominance, the difference at the end of the game was two long kick returns — 83 and 68 yards, both setting up touchdowns – by Domenik Hixon, who also caught 6 passes for 57 yards. Yes, I know; like you, I scarcely knew who Hixon was before Sunday, though he had a much better average on kick returns last year (27.6) than Ahmad Bradshaw (21.0) had this year. They were Hixon's first returns of this year. If he's as fast as he looked on those two plays against Arizona, the Giants are going to be positively scary the rest of the way through the schedule – which, by the way, features three consecutive games with divisional rivals, beginning with the Redskins this Sunday in Washington.
It's too soon to know when Jacobs and Burress will be back, and the Giants, no matter how well they're playing, aren't good enough to be without their best running back and most dangerous receiver for very long. But unfortunately for Giants' opponents, Steve Spagnuolo and his blitzes aren't going anywhere.