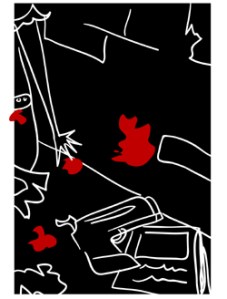 2666
By Roberto Bolaño
Farrar Straus and Giroux,
898 pages, $30
Roberto Bolaño meant 2666 to be his masterpiece. It was the tome he toiled away at in the rush before his death in 2003, sick with liver disease at the age of 50. At 900 pages, it groans with ambition, knitting together five different novellas in a sprawling story spanning decades, continents and styles. Mysterious and full of dread, 2666 is cluttered with hundreds of characters introduced by name—hungry writers, hapless detectives, hustlers and hookers, journalists and pugilists. It conveys, with literal heft, what's glorious about art and what's terrifying about death. There's much to explore and revisit, to ruminate on and be haunted by. Yet sometimes it feels like hard work to think of this unwieldy volume as a single coherent novel.
That hasn't stopped 2666— translated from the Spanish by Natasha Wimmer—from becoming this autumn's literary fetish object. The Chilean-born Bolaño enjoys a cult following for his romantic, political, darkly sexy books. His unconventional stories offer a vitality, an adventurousness, that's mostly missing from contemporary American literature. His reflections on the human condition are at once lofty and unstylish; his characters often tortured, omnivorous and full of desire—they seem unaware of the fact that we are too post-whatever to consider our proximity to the abyss. The overall effect is rare and bracing.
With The Savage Detectives, his remarkable breakout novel (also translated by Ms. Wimmer and published by FSG last year), Bolaño shouldered his way into the literary canon—like a grapho-maniac Borges, a Latin American Sebald, and also something completely different. Readers would do well to come to 2666 with grand expectations and a good deal of patience. A dreamy, difficult book, it demands time and gives back frustration. ("Behind every answer lies a question," observes one character.) You don't just read this book, you wrestle with it.
IT BEGINS PLAYFULLY WITH "The Part About the Critics." This section features a love quadrangle of academics all drawn to the same obscure German author. Bolaño depicts their fixations and romantic intrigues with sardonic insight. His sentences tend to be long and profoundly torqued, and flashes of brilliance glitter in his prose. Here he's describing his young literary conference-goers:
"[T]hose eager and insatiable cannibals, their 30-something faces bloated with success, their expressions shifting from boredom to madness, their coded stutterings speaking only two words: love me, or maybe two words and a phrase: love me, let me love you, though obviously no one understood."
Bolaño packs a lot in, and the density calls for rereading. (When in doubt, presume he's describing a lonesome misunderstanding.)
The first section is the most accessible for its entertaining drama and richly drawn characters. The scene shifts when the critics head to Mexico—that "unfathomable and hostile land"—in search of their beloved author. They hear he's been spotted in Santa Theresa, a grim industrial town just south of the border, but their hunt is fruitless and weirdly ominous. The section ends abruptly, and we never hear from these scholars again. (Bolaño often lets loose ends flap, and occasionally frays them for good measure.)
We linger in Santa Theresa, amid the "anarchic sprawl" of low-wage maquiladoras, bordellos, seedy bars and shanties, for most of the next three sections. We meet a literature professor who's losing his mind ("The Part About Amalfitano"), and a reporter sent to Mexico to cover a boxing match ("The Part About Fate"). These sections are often disorienting, with odd, prolonged digressions, strange monologues and underdeveloped characters against a melancholic landscape. They feel portentous and only occasionally compelling. I was missing the easy momentum of the first section even before I plunged into the 300 horror-soaked pages of the fourth ("The Part About the Crimes").
"The girl's body turned up in a vacant lot in Colonia Las Flores." So begins Bolaño's catalog of victims—all women (or girls), mostly poor—raped and murdered in Santa Theresa (a town based on the real-life Ciudad Juarez, where some 450 women have disappeared). With an almost clinical sense of duty, Bolaño itemizes each mutilated body discovered over several years, most of them unclaimed, unsolved, dumped in public graves. He writes about the detectives involved, the cases dropped, the evidence lost. These pages are relentless. There's so much violence, most of it senseless, rooted in desperation, and we learn so little, after all, about the victims. It's tempting to skim and skip, but Bolaño seems to be challenging us to consider these women, to mourn them, to grant them the individual scrutiny they have otherwise been denied. "No one pays attention to these killings, but the secret of the world is hidden in them," one character observes.
The final book ("The Part About Archimboldi") comes as a relief. We leave Mexico and learn the story of the German author lionized in the first section. We find out about his time in the Second World War, about his love, about his stretch on the brink of madness. And then we learn about how he became a writer. Eventually, ultimately, the narrative nudges him to Mexico, which delicately, tenuously ties the end to the beginning. Or perhaps this is the beginning. …
It's hard to know what to make of 2666. It reads like a puzzle crafted by a sadistic, sympathetic literary master. Given the way it rambles without urgency, it's hard to believe it's is the work of someone at death's door. There are long stretches when I felt abandoned as a reader. (That he's not here to explain himself makes for a perfect punch line.) Yet Bolaño reveals enough to keep us reading—a turn of phrase, a captured moment that just feels so confident, so singular. "Mothers should never write letters," someone sighs, after observing the "nakedness" of his mother's grammar mistakes and shaky handwriting. And what about: "Outside the air had a liquid texture. Black water, jet-black, that made one want to reach out and stroke its back."
If there's something, anything, that ties these five books together, perhaps it's a sense of the nakedness of life, the proximity of death and the occasional yearning to reach out and stroke the liquid air. It should be noted that although many lives are snuffed out in these pages, the writers seem to live on. 2666 may not be Bolaño's masterpiece, but it's also inescapable, unignorable and lasting.
Emily Bobrow is an arts contributor to The Economist and editor of More Intelligent Life (moreintelligentlife.com). She can be reached at books@observer.com.