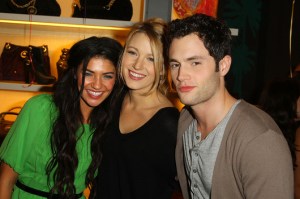 The label Juicy Couture is perhaps best known for outfitting young girls (and sometimes their moms who should know better) in cotton candy-bright velour sweatpants with the word "Juicy" written across the buttocks. Its clothes are often decorated with rhinestones and lots of hardware, combining the image of daddy's uptown little girl with a little bit of punk. Or, as Cintra Wilson wrote in the New York Times last month: "The girl for whom Juicy Couture is designed, I determined, is Lady Veruca Salt: the imperial tween in the candy store who screams: 'Daddy says only weak people have recessions. I want an Oompa Loompa NOW!'"
The organizers of Thursday evening's opening party for the label's new, 12,000 square foot flagship store at Fifth Avenue and 52nd Street had taken Ms. Wilson's words to heart. Outside the store, a small army of male models dressed in tight black Levi's, tuxedo shirts, ripped blazers, marching boots, bowler hats, and pink flowers in place of bow ties stared at guests through their emo eye-liner with monotone facial expressions. Inside, professional ballerinas in tutus twisted into ballet moves along the steps leading upstairs. Violinists scratched away at their instruments. Colorful little cakes were passed out. A gospel choir performed. And the publicist Leslie Sloane Zelnick was nearly responsible for a few broken limbs when she entered with her client Penn Badgley, accompanied by his Gossip Girl co-star and real-life girlfriend Blake Lively, Sex and the City hunk Jason Lewis, Sarah Michelle Gellar, and Gretchen Mol, sending gaggles of lip-glossed tween girls in a stampede towards the door.
In addition to the Hollywood celebrities swarming the spaces, there were plenty of unexpected guests. The Daily Transom found Martha Stewart snapping photos of the decor with a digital camera. Could it be that Ms. Stewart is a fan of the aforementioned sweatpants?
"Ah, yes, the ones with Juicy written across the derriere," Ms. Stewart said. "I doubt I can ever wear those. I cannot even imagine that one thing would fit me in here–it's so tiny-tiny!" (Ms. Stewart pointed out, however, that the little frosted cakes were delicious.)   
"This actually seems like a very Gossip Girl kind of venue here," said author and recent Gossip Girl guest star Jay McInerney, who we found hanging out by the bar with his wife, socialite Anne Hearst. Mr. McInerney told the Daily Transom that while he and Ms. Hearst do not wear Juicy, his 13-year-old daughter is a fan. 
"She loves this stuff. She's been a Juicy girl for a while now," said Mr. McInerney. But the Juicy butt pants are off limits for Maisie McInerney.
"No! I don't let her do that," Mr. McInerney said. "She is only 13!"
As for his Gossip Girl cameo, the author would like to make a comeback. "I'm just waiting for the call," he said. "I love the show and I actually got to do a little bit of acting for once. Normally, I go onto a show and I'm Jay McInerney, I say hi and I walk off."
Stylista judge and Elle fashion editor Anne Slowey, whose patent leather six-inch platforms drew whispers from the humbly dressed editorial assistants in the room, was amused by the kitschy decor. 
"I was just saying that the store is twisted and perverse in that Argento '70s slasher film sort of way," she said. "I keep waiting for one of these ballerinas to freak out with a shard of glass." 
We wondered whether Ms. Slowey picks up her carefully prepared lattes on Saturdays in a pair of Juicy sweats.  
"No, no. I don't have anything with letters in my closet," said Ms. Slowey. "I'm actually on strike right now at the office until they turn the heat down. I keep a rack of clothes in my office and I'm wearing the same leggings and tank top every day. We're going on about two and half weeks and I'm refusing to change or wash my clothes."
We couldn't figure out if the typically well-kept Ms. Slowey was joking. 
"No, really! No one has taken me seriously and it's so hot in the office that I'm in, like, pajamas. It would actually be a step up for me if I got a pair of clean, fresh Juicy sweats," the fashion editor continued. "I haven't gone so far as to bring lingerie, a nightie and bathrobe into the office, but maybe that should be my next move. I've made everyone aware that I won't dress until they turn down the heat!"
Actress Jennifer Jason Leigh, accompanied by her husband, filmmaker Noah Baumbach, also conceded that she's not "bold" enough to pull off the candy pink Juicy sweatpants. Funny lady Sarah Silverman, who was thumbing through the racks of colorful clothes, agreed.  
"I can't! My ass is just not Juicy, it's very flat. Like the ass of a young boy," Ms. Silverman told the Daily Transom. "I can wear it ironically, but I wouldn't be the first one to make it a joke because it's behind me and I'd have to turn around constantly and be like, 'I know! It's ironic!'"
So just who are the slouchy Juicy butt pants for, then? 
"It's for people with juicy asses!" she replied.
Like the crowds of 14-year-olds running around the store?
"No! Nobody should be looking at a 14-year-old's ass and reading Juicy!" she said. "I mean if they get molested… I'm just saying."
The Daily Transom had all but given up on finding a party guest who was a proud Juicy butt-pant wearer. But then we ran into the stylish portfolio manager for Sigma Capital Management and recent Vogue It Girl Julie Macklowe. Ms. Macklowe was dressed in head-to-toe Chanel (including over-the-knee white leather boots) and surely doesn't wear a pair of sweatpants with the word Juicy written across her backside.  
"I do actually. But please don't tell!" she replied.