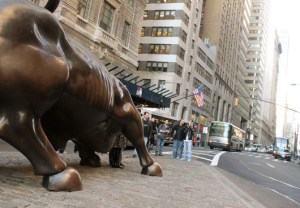 When Jongmin Park and his wife Soye moved from Battery Park City to a condo at 90 William Street three years ago, the conversion of the Financial District into a 24-hour retail and residential neighborhood was just beginning.
When they first arrived, all the restaurants and stores closed on the weekends and the neighborhood turned into a "ghost town," he said. Things have changed so much since then that Mr. Park's biggest complaint about living there is no longer a lack of amenities, but the nearly constant din of construction.
"This place used to be geared towards billionaires," Mr. Park said Sunday, while walking two small, white dogs a block from his apartment. "Nowadays, there are more professionals and young people. Our friends actually come down here to hang out."
Condos, rental buildings, restaurants and retail outlets have proliferated on and around Wall Street since September 11, turning what was once an undesirable place to live into a bona fide residential neighborhood, complete with a self-consciously trendy new moniker: FiDi.
But spend a weekend day walking around and talking to residents, and you'll discover the same ambivalence to the area as a 24-7 spot as you might have found three or five years ago: The Financial District seems forever on its way to that round-the-clock residential and retail status, and not ever quite there yet.
Now, will the financial crisis only push the finish line back further?
Arielle Shapiro, 23, just renewed her lease on the convertible two-bedroom she shares with two friends in The Crest at 63 Wall Street, a building she described as "one of the most laid-back" in the area. Ms. Shapiro's rent actually ticked up slightly this year, though most of the surrounding condos and rental buildings are offering a slew of incentives to woo new tenants.
Developers of the Armani-designed 20 Pine Street are forgoing broker fees, for instance. And the rental Dwell 95, at 95 Wall Street and with designs by Philippe Starck, offers new tenants two months free rent; it remains 30 percent empty, according to a broker.
"I'd say the entire building is mainly my demographic with a few sporadic couples and families," Ms. Shapiro of 63 Wall said, while picking at a plate of home fries inside the Financier Pattiserie. "It's mostly young professionals who want a full-service building. It's great down here. You just get everything delivered. It's a very cushy lifestyle."
And a communal one, based on Ms. Shapiro's description. The building has a 10,000 square-foot tenants lounge— which Ms. Shapiro initially referred to as a "student lounge" before correcting herself—with a wide-screen television, billiards table, and couches; and it has an in-house movie theater. Meanwhile, in a city where one can go a lifetime without engaging neighbors, she and her roommates spend time with two women who live next door and a pair of men from across the hall.
Last night the group went to Pravda in Soho, she said. "Someone from each apartment was represented," Ms. Shapiro joked.
Though she might grab a beer on Stone Street or one of the bars at the South Street Seaport every so often, Ms. Shapiro and her friends try to get out of the neighborhood at night. "[They] can be fun," she said of local bars. "But it's a lot bankers, so it's a very fratty atmosphere."
Ron Goldschmidt, 33, who left Murray Hill 18 months ago and bought an apartment near the offices of the financial services firm where he works, also avoids going out in FiDi. But overall he said he likes living there. "There are definitely some things that are still missing," he said, while browsing the "Men's Interest" magazine section of Borders on Sunday afternoon. "Like today, there was no place for brunch, but overall I work down here so it's really convenient."
Aside from the occasional post-work drink or dinner with his colleagues, like many Wall Street residents, Mr. Goldschmidt said he spends most of his downtime in "sexier" neighborhoods like the West Village or Midtown. Sunday was an exception because his plans were cancelled and he was "pretty bored."
Some of Mr. Goldschmidt's single friends and young couples have also moved to the Financial District since he arrived.
"A lot of people," he said, "are buying down here now because it's a little cheaper and they might not be able to afford the same thing in a different neighborhood. I think a lot of communities are forming down here."
Though credit is hard to come by for many apartment hunters, "money is still cheap for some" people, according to Prudential Douglas Elliman broker Ariel Cohen, who is marketing at 20 Pine Street, 20 Exchange Place and 15 Broad Street.
Last week, Mr. Cohen set a contract for an 1,100-square-foot, $950,000 unit in the Armani-designed condo and (lately) rental building 20 Pine. The buyer was a "single, young bachelor" and first-time buyer, who was not going to finance that much, Mr. Cohen said.
"That's the kind of buyers we need now," he said, "that's the kind of buyer everyone needs now… If you're a first-time buyer, who could put 20 percent now and finance 80 percent, you can get a loan at 6.5 percent. The ones who are going to have trouble are buyers who already own a home and are buying as an investment. The banks are going to ask you to finance at least 60."
Though Mr. Cohen said that the financial crisis has slowed the pace of residential and retail growth in the Financial District temporarily, as is the case in most other Manhattan neighborhoods, he is confident of the long-term prospects.
"[Wall Street's conversion] is happening as we speak," he said. "Wall Street is definitely going to be a 24-hour residential district, there is just so much happening. Right now the kind of retail we have today, Tumi and Hermes, more of that is going to come. But today, tomorrow, nothing is happening."
Jonathan Miller, CEO of appraisal firm Miller Samuel and author of a quarterly Manhattan housing market report for Douglas Elliman, is a little more sanguine about the future.
"I don't think it's a question of it becoming a 24-hour neighborhood, because it's the Financial District," he said. "But there was a push toward more 24-hour residential and retail options after 9/11. Now that has slowed down.
"I already saw the conversion from 9-to-5 as being a 10- to 15-year window, and I think that window is going to be longer now."
The question is how long. "It's in our lifetime," Mr. Miller said.