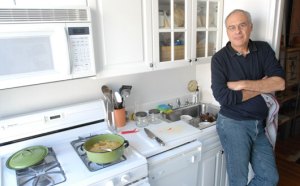 Mark Bittman, the New York Times food columnist and best-selling cookbook author, was ambling unnoticed through the tight aisles of the Fairway at 74th Street and Broadway on a mild Friday evening earlier this month, shopping for dinner. He nosed briefly around the fish counter before settling on a two-pound slab of monkfish. He had some Savoy cabbage at home, but he wasn't sure what else. This seemed to fortify rather than trouble him. "If you can go get whatever you want," he said, "there's no challenge left at all."
It was a quick cab ride 25 blocks north to his kitchen, which, as Times health blogger Tara Parker-Pope noted recently, is exceptionally small: 7 feet by 8 feet, Mr. Bittman claimed, but this seemed generous.
Lanky and loose-framed in blue jeans and a sweatshirt (he has lost 30 pounds over the past couple of years), he rooted through his refrigerator and tossed, among other things, a Ziploc bag full of roasted vegetables on the counter. He had cooked them that morning with Meredith Vieira on The Today Show, where he is a regular guest.
"I have chestnuts!" Mr. Bittman said from halfway inside the fridge. "That's interesting."
He emerged and considered for a moment the pile of food on his counter. "I think actually we should … sauté the Savoy cabbage, make it taste good, stuff the monkfish with some stuff, put the monkfish on top of the Savoy cabbage, cook a grain with some chestnuts."
And there it was. Dinner in three parts, with almost no planning, from the man who has become, like The Joy of Cooking's Irma Rombauer before him, America's foremost home cook, the go-to authority on everything from braised spareribs to paratha to pad thai to spaghetti with butter and Parmesan.
With his next book, Food Matters, due from Simon & Schuster in January, he'd like to change the world. But for the moment, some simpler accolades.
"I use him for everything from pancakes (he's great on pancakes) to grilled fish to things like his great recipe for baby artichokes with olives and tomatoes," wrote Times executive editor Bill Keller in an e-mail, adding that his old yellow edition of Mr. Bittman's breakthrough book, How to Cook Everything—which has supplanted Joy on many New Yorkers' countertops—"is all gravy dribbles, wine rings and sauce stains."
"It's the dirtiest cookbook in our kitchen," said Babbo chef Mario Batali, with whom Mr. Bittman has been gallivanting this fall, along with actresses Gwyneth Paltrow and Claudia Bassols, on the PBS food-porn show Spain … on the Road Again.
The commenters on Ms. Parker-Pope's blog seemed more interested in what's between the lines. "Mark Bittman rules!" … "Mr. Bittman looked so cute" … "I have a major crush on Bittman. Is he maried [sic]?"
Answer: Yes. To Kelly Doe, an art director at The Times. Back in the one-bedroom apartment he shares with her, which is decorated in orthodox Upper West Side (floor to ceiling bookshelves, enormous cactus), Mr. Bittman put a pot of water on the stove. His gray hair was shaved close and his round wire-rimmed glasses sat askew on his nose, giving him an air of persistent skepticism.
"Let's start the chestnuts," he said. "They're a pain in the ass."
MR. BITTMAN, who is 58, has no formal culinary training.
He was born in Manhattan and grew up in Stuyvesant Town; his parents still live there. After graduating from Clark University with a degree in psychology, he drove a cab in New York. ("People find it exciting, but it's not that exciting.") But it was the early 1970s, and he had become active in left-wing politics. He moved to Boston, where he worked as a community organizer.
"He was not one of these guys who struck one with their ambition and drive," said an old friend from that crowd, Naomi Glauberman, also a journalist. "You didn't say, 'Oh my God, he's gonna get somewhere.'"