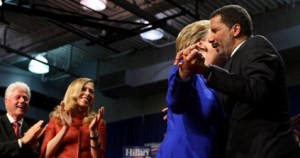 ALBANY—For the first time since the state's fiscal situation really began to slip, legislative leaders will be accompanying Governor David Paterson as he heads to Washington to lobby for federal aid.
Assembly Speaker Sheldon Silver and State Senator Malcolm Smith, who is poised to become his chamber's majority leader in January, will accompany Paterson as he meets with New York's congressional delegation, House Majority Leader Steny Hoyer and Senate Majority Leader Harry Reid. The three leaders are also accompanied by State Senator Jose Serrano Jr., whose father is a congressman.
Paterson first hinted he would travel to Washington to ask for more aid yesterday, but said that inaction in a special session would hurt the state's case.
He invited the leaders of each legislative conference to accompany him to Washington during a public leaders meeting Tuesday. The heads of the Republican conferences – Assemblyman Jim Tedisco and Senator Dean Skelos – chose not to attend.
Paterson is to meet with federal leaders to make the case that states including New York need more money in a time of crisis. New York is required to have a balanced budget; the federal government is not.
UPDATE: Senate Republican Spokesman John McArdle called to say that Senator Skelos was not invited to Washington. Above, we referred to a statement David Paterson made in Tuesday's public leaders meaning — "Anyone who would care to join us is invited" — after saying he was headed to Washington.
"We weren't invited. The Governor's office did not want us to attend," McArdle told me in his office. "Whatever he said at the meeting is not how you invite someone."
Paterson spokesman Errol Cockfield said in response: "That's not true. The governor extended an open invitation to the attendees at the leaders meeting, and that's on tape."