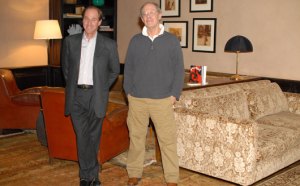 Location: So, one day, the phone rings. It's Robert De Niro. He wants to build a hotel. Why did he turn to you?
Mr. Born: I've got to believe that he was very methodical and careful because he actually spent years with this piece of property [the eventual Greenwich Hotel]. I think he liked us because we were probably a little more low-key than some of the obvious names. And I think he was comfortable also because, from a financial point of view, he wanted to know he was getting involved with people who were solid and would be up to the task.
This was back in 1999?
Mr. Drukier: I think we met Bob in 1999.
Mr. Born: Obviously, 9/11 was a bit of a speed bump. … This project picked up in about 2004. It was about a two-and-a-half, three-year construction process.
Mr. Drukier: It was longer than we're used to.
Mr. Born: Very high-end custom work is just a whole other world. We've done projects in eight or nine months. We've done new construction buildings in less than two years. It's not like that when you do something like this.
The Greenwich Hotel prides itself on the fact that no two rooms are alike. Do you consider it a masterpiece?
Mr. Born: It's special because it's as luxurious in its finish as anything we've ever done. When we built the Mercer, the one thing we said at the time is, over time we can justify all the stuff we did here because no one's going to be crazy enough to spend so much money and put so much time and attention into it. Now we can say the same thing about this place.
Mr. Drukier: Bill Marriott came by yesterday afternoon. He just wandered into the lobby and I happened to be there. So I walked over and introduced myself and I walked him around a little. I told him, 'You can take pictures of every room because I know nobody's crazy enough to ever do this again.' You saw the pool. We got there by trying to come up with a Japanese spa and what can we do to make it feel like that. We thought about this building in Japan we could bring over. We don't typically bring buildings over from Japan.
Can you set me straight on the standoff with Landmarks over the hotel's penthouse, which is bigger and bulkier than originally proposed?
Mr. Drukier: [Landmarks] had approved it, but [the Board of Standards and Appeals] made some changes to the approval which increased it a bit. We went back to the community board. They said fine. Then we didn't for whatever reason go back to the full Landmarks Commission. We went to the Buildings Department and they signed off, so we have a perfectly valid building permit, but when it came time for Landmarks to sign off on the building, they noticed a discrepancy.
Are they going to make you tear it down?
Mr. Drukier: Our deal with them was that they would approve everything else on the rest of the building if we discontinued work on the penthouse until we came to an agreement and we did. … They have a half a dozen ideas that they're looking at now. We hope some of them they'll approve. I do think they believe it was a real mistake; it wasn't something we did consciously. It was dumb, O.K.? It was dumb.
Talk about the state of the industry. Manhattan's hotel boom has come to a screeching halt. If the industry is truly at a standstill, what do two usually busy hotel financiers do with themselves while awaiting the next upturn?
Mr. Born: Well, we kind of shifted into neutral about a year ago in anticipation of that. We had a very large project in midtown that we mothballed. We actually leased out a couple of sites that we would have otherwise built in anticipation of a slowdown. … It had all the flavor of a market that's going to shut down. Hotels all of a sudden became the most popular means of developing a piece of property. There were 100 hotels announced, 90 percent were being built by people who had never built a hotel before and half of those were people who had never built a building before. It's the kind of thing that when your taxi driver starts talking about the stock market, it's time to sell.
So what now?
Mr. Born: A lot of parking lots [laughing]. One of the things that we are going to be looking for is picking up the pieces of something that didn't work. We think we're well positioned to work with lenders. We can build out, we can manage, and we can invest. So I think we're going to be an attractive group to hook up with on a development that sort of got stalled. There will definitely be those situations around here.