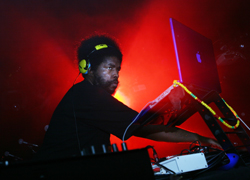 There's been an unfortunate little rumor floating around the web these last few days. It stars The Roots—the beloved Philly hip-hop band led by Black Thought and Questlove, he of the inimitable 'fro. According to MTV.com, a low-quality video appeared over the weekend featuring Questlove announcing that the band members would retire from touring next year in order to fully devote themselves to a new creative endeavor—performing as the house band for Jimmy Fallon's Late Night show! (The SNL alum takes over for Conan O'Brien, who is heading over to the Tonight Show, in March 2009.) Though the video has predictably been taken down from, well, pretty much everywhere, the Philadelphia Daily News reported yesterday that a rep from Island/Def Jam, the Roots' label, confirmed the group's new gig as Mr. Fallon's house band. The spokeswoman, however, remained silent about the band's tour plans.
The Sound of Young America purports to have a transcript of a portion of the infamous interview, and though there's no explicit reference to Mr. Fallon, Questlove did say that he loves his "new home at 30 rock. 2 visits and im already on first name basis with the snl cats." The drummer made it clear, though, that this wouldn't mean the end of touring, just the end of major jaunts to Europe and the West Coast.
Still, this is big news, and rants from bloggers sorry to see one of hip-hop's favorite ambassadors lower themselves at the foot of Jimmy Fallon have started pouring in. Our advice to you: see these guys now before the Roots become synonymous with Mr. Fallon's mussed hair. They're in the middle of what may be their final European tour.