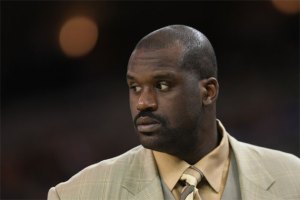 Shaquille "Kobe, Tell Me How My Ass Taste" O'Neal wasn't going to let some troll front as his 7-foot-1 basketball behemoth on Twitter. So he started his own account. First tweet: "This is the real SHAQUILLE O'NEAL," came from The_Real_Shaq, early Tuesday morning. It has been a "shaqalicious" romp ever since.
The New York Times' Howard Beck spoke with Mr. O'Neal yesterday to make sure it was him.
"Somebody out there was trying to use my language and trying to speak for me," he told The Times in a telephone interview. "Rather than have that happen, I thought I'd do it myself."
O'Neal added: "It's a fun thing. It's a way for fans to connect."
Unlike other pop stars like @TheRealBritney or @BarackObama, @THE_REAL_SHAQ is actually Shaq, tweeting via text message. Some recent entries:
At the barber shop, gotta b sexy for the game tomorro. Us supermodels always have to stay fine, lol
and
Just got off the phone witha new york times reporter, howard beck, he used to cover me in LA i've always liked him
Kathleen Hessert, a consultant who works for Mr. O'Neal, discovered the original fake account and was "initially thrilled" to see the big guy using social media. She had been pushing him to connect with fans through Twitter, according to The Times. When she discovered it was a fake, she complained to Twitter and they took down the posts. An archive of the tweets remains at twitter.com/notShaqONeal.
The account's creator, a 33-year-old Phoenix Sun's fan named Ward Andrews said it was a joke and his 500 followers knew it.
Mr. Andrews owns a Phoenix design and marketing agency and wanted to protect the brand.
A Twitter spokesman said that impersonating people violates the company's terms of service.
"We do allow parody," said Biz Stone, a Twitter co-founder. "If it's not clear and there is some confusion, we do get involved."
Twitter welcomed the Real Shaq with a blog post.