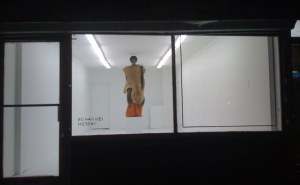 What with those opulently phony copies of the New York Times circulating yesterday and with that political pundit from the Harding Institute who was quoted on MSNBC and who doesn't actually exist, this has been a bad week to distinguish between what's real and, you know, what's not.
To confuse the issue further, Chinese artist Xu Han Wei made his debut at the Asia Song Society (form an acronym for a punch line) earlier this week. The show is the artist's first in America. It consists of a single mannequin, or sculpture, dressed in hunter-gatherer skins and topped with an Afro wig. Titled "History," it can be seen from the gallery's storefront to judge from a picture found on the web. Unfortunately there's no press release (something about the artist not wanting to translate it from Chinese into English). The gallery doesn't take calls.
So who is the allusive Xu Han Wei? None other than the alter-ego of Terrence Koh, the New York City based artist who, with dashes of sugar, excrement, and ambition, has become the art world's chief narcissus.
Here's the Society's sweetly corrupt website.