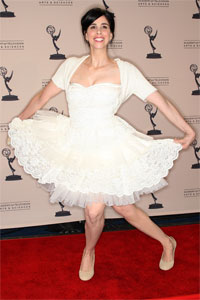 The auction for comedian Sarah Silverman's book has ended, with HarperCollins emerging victorious after submitting a house bid in the neighborhood of $2.5 million dollars. Editors at three of HarperCollins' imprints—David Hirshey at Harper, Gillian Blake at Collins, and Laurie Chittenden at William Morrow—are interested in the book, which means Ms. Silverman and her agent, Trident Media Group CEO Daniel Strone, have some deciding to do.
HarperCollins' number two Michael Morrison, who will oversee the so-called beauty contest between the three imprints, said he was talking to Mr. Strone about the possibility of having Ms. Silverman come in and meet with editors and publishers from all three imprints before making her choice. Though Mr. Morrison said there is no rush to come to a decision, one would not be wrong to suspect that the folks at Harper and Collins—imprints that tend to acquire very similar kinds of books when it comes to nonfiction and thus find themselves in competition with relative frequency—are eager for an outcome to come sooner rather than later.
Ms. Silverman's book, by the way, will be a collection of comedic essays, just like the Tina Fey book that Endeavor agent Richard Abate recently sold to Little, Brown for a reported $6 million. Apparently that's actually how Mr. Strone described the Silverman project to publishers: "Just like Tina Fey."