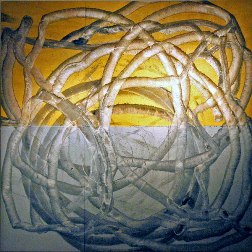 In certain corners of New York (24th street between 10th and 11th avenue specifically) Thursday night means only one thing: art openings. While the rest of the city gets the kids to bed and tries to catch the last ten minutes of "he Office, various art professionals, broke students, and arts and leisure types drink out of plastic cups and try to look at art. Tonight is no different. Here are two worth checking out, if you're into that sort of thing.
Aaron Young at Bortolami
You may remember Young, if not by name than by deed. One morning in September of 2007, the artist directed a pack of motorcyclists to tear over the tops of painted panels on the floor of the Seventh Avenue Armory. The motorcyclists skinned through the top layer of black to reveal Day-Glo orange below.
The event was billed as a, you know, 'Action Painting' with the Wild Bunch. In retrospect, however, it seems clear that a harmless joke was played that day. For when the smoke and diesel-fumes cleared, what was left as a handsome piece of abstraction with an amenable resemblance to Brice Marden's-zen art from motorcycle maintenance. Details are hazy, but the Bartolami show, titled "Punchline," will, says the flier, "invite the viewer into a participatory space constructed in the gallery."
Barnaby Furnas at Marianne Boesky Gallery
Furnas, who paints feverishly shredded and gory scenes, is one of those artists whose work one is always eager to see. This is Furnas's fourth show with Ms. Boesky, which brings us back to a profile of the formidable dealer that ran in Portfolio magazine in May of 2007.
How many years ago was this? Already it reads like a period piece. Palace gossip does not, generally, age well. By the standards of a chastened and confused art world nearing the end of 2008, May of 2007 seems positively quaint. Will Murakami leave Boesky for Gagosian? Will reptile-man Mike Ovitz dump his Furnas on the market? By now it hardly seems to matter.