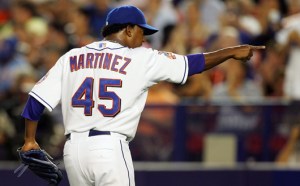 Time to Say Goodbye to Pedro.
Pedro Martinez's agent said this week that while several teams are interested in his client's services for 2009, the Mets remain his top choice. And on the surface, Martinez is still a good fit for the Mets.
Even if New York re-signs Oliver Perez, their fifth starter remains a question mark, with Jonathon Niese (with his three career major-league starts) the heir apparent. The Mets have little depth beyond Niese at the position, and it would seem that the finest pitcher of his generation would be a tremendous luxury in that final spot.
But the very reasons that Martinez would be superficially attractive are what make bringing him back such a bad idea. His salary would likely be too high, the leeway he'd get should he struggle early would be significant, and there just isn't enough evidence to suggest that at this stage in his career, Martinez deserves either.
To say this is far from easy. Not only is the peak of Pedro Martinez's career the envy of virtually any other Hall of Fame pitcher, but Martinez worked extremely hard to return from the labrum surgery that ended his 2006 season a month early. His presence in the clubhouse is uniformly praised, and a large number of Mets pitchers have recounted a lesson from Martinez that they incorporated into their pitching.
Based on his 2007 finish—28 innings of 2.57 ERA pitching– the Mets were fooled into thinking that Martinez could take on the role of number two starter last season. But Martinez had neither the stamina nor the effectiveness to hold down a role at the top of a team's rotation in 2008.
First, there were the injuries. A hamstring pull knocked him out of his first start on April 1—he went on to miss two months. A groin injury in a July 12 game against Colorado led to another three inactive weeks. In total, Martinez pitched just 109 innings—a total that is unacceptable even from a fifth starter.
And worse yet, Martinez simply wasn't good in 2008, no matter how you slice the numbers. He pitched to a 5.61 ERA, or nearly twice his career mark of 2.91. Coming into 2008, he'd struck out almost exactly one batter per inning as a Met; that rate dropped to 7.18, good but not great. His walk rate of 2.2 per nine innings as a Met through 2007 ballooned to 3.6 per nine. And his home run rate nearly doubled, from 0.9 per nine innings through 2007 as a Met to nearly 1.6 per nine in 2008.
Needless to say, those numbers are even worse compared to his very best years with the Boston Red Sox.
What was so disheartening about Martinez's season was watching a pitcher who clearly still knew how to pitch like the ace he once was, but whose body simply wouldn't cooperate. He'd even have flashes of his old effectiveness, but they'd often come following a brutal first inning, a recurring problem Martinez had throughout the season. Hitters posted a .375/.429/.670 line against Martinez in the first inning, .214/.273/.314 in the second, and .186/.250/.271 in the third inning. By then, however, he'd usually be trailing—it's why he posted victories in just three of his final sixteen starts.
Still, there is an argument to be made that Martinez could turn things around in 2009. Bill James, for instance, projects Martinez to a 3.36 ERA next year—though still in 120 innings, which isn't nearly enough out of a member of the rotation. Much of that is based upon numbers that Martinez posted before his labrum surgery—an operation that often leads to a reduction in command.
But it is the combination of faint hope and Martinez reputation that would pose the biggest problem. In all likelihood, a one-year contract for very little money or a nonguaranteed spring training invite won't be enough to entice Martinez to return to the Mets.
Not only will that mean guaranteeing too much money and possibly years to a pitcher who in all likelihood has pitched his last effective season, it would likely mean that Martinez would not be quickly dispatched should his ineffectiveness become obvious early in the season. Because he is Pedro Martinez, he'd get more of a chance to prove himself sound. Even moving him to the bullpen wouldn't be a viable option—he struggles to get loose and in the first inning, remember?
The Mets would then be left with the ugly choice of carrying a washed-up fifth starter, or unceremoniously dumping an inner-circle Hall of Famer whose signing kick-started the franchise's recent return to respectability.
Would it be heartbreaking for Mets fans to see Martinez sign elsewhere and find a last bit of the magic that made him beloved in New York? Absolutely. But the odds are the Mets will be much better off cutting their losses now than betting on a long shot.