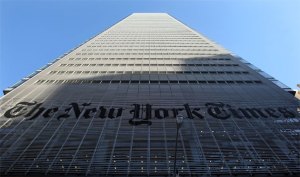 More bad news for Times Company stock: Its stock has hit a new 52-week low today at $8.12, and stands at $8.28 as we write this.
The plunge comes a day after the Times announced that its New England newspapers had declined in value by $166 million, more than the $100 to $150 million that C.E.O. Janet Robinson had projected in a conference call last month.
That also greatly alters its third quarter numbers. The Associated Press' Anick Jesdanun (here via Forbes) reports: "With the new charge and related tax adjustments, the Times had a net loss of $106 million, or 74 cents a share, in the third quarter, compared with a profit of $13.4 million, or 9 cents a share, a year earlier."
It's unimaginable, in a way, that the Company's stock has fallen so far. At the beginning of the year, the company's number was consistently in the high teens, and hit a high of $21.14—and that was considered low back then.
Then again, no one realized this would be the worst year for newspapers ever.