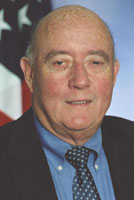 ALBANY—The votes aren't completely counted yet, but all indications are that seven-term incumbent Assemblyman Tom Kirwan, a Republican, will lose.
A retired State Trooper and member of the minority conference, Kirwan never styled himself as a traditional politician. And if he becomes the only incumbent in the lower chamber to loose his re-election bid – his loss brings the minority conference to 41 members – Kirwan is showing some aplomb.
"I didn't concede yet, but I know the difference between possible and probable, and this certainly goes into the probable," he said by phone from his Newburgh home. "It was a lot of fun, it was a great honor, and I'm grateful for the people for giving me 14 years. It's a great run. I wanted another two years, but if I don't get it, that's okay. Most people don't get 14."
His challenger, Frank Skartados, was holding a lead of over 500 votes after polls closed on election night. The district encompasses the cities of Newburgh, Poughkeepsie and Beacon.
He said he is most proud of working to get State Police into small cities to help crack down on crime, and working to stiffen criminal sentences. Also, as a minority member without much power, he did more than his share of constituent service. "It's stuff like that when you can help folks like that with the bur. Nightmares that really makes the job rewarding," he said.
Kirwan was also part of a lawsuit that alleged the structure of Albany was so unbalanced that members of minority parties in legislative chambers did not have the rights of equal representation.
At 75, Kirwan said he hopes to spend more time with this wife of 45 years, Verna, and his two grandchildren.
"All in all, I've had just one of those lives where – I don't want to sound like Lou Gehrig – but I've had a great life," he said.