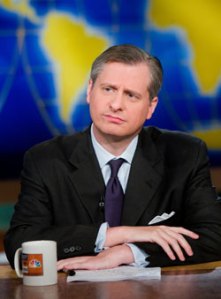 In this week's giddily Obama-centric edition of The New Yorker—you had the illuminated O in "Yorker"; the "ELECTION SPECIAL" tab on the outside cover flap; and more than 35,000 words inside about the election—the longest story in the magazine was assigned to none other than the magazine's editor, David Remnick. His 12,000-word opus on race and politics included dispatches from two different trips to Chicago and one to New Orleans.
It was filed in the magazine under: "A Reporter at Large."
"As much as I love editing, reporting and writing is a way for me to get out of the house a little bit, metaphorically" said Mr. Remnick in a phone interview. "Otherwise, it's just the apartment and the office."
And he's far from the only editor who's taken to writing of late!
There was Newsweek's Jon Meacham on the Nov. 9 Meet the Press, sitting at a pundits' round table with Tom Brokaw. As the two men talked about what an Obama White House will look like, Mr. Brokaw managed three shout-outs to Mr. Meacham's new book, American Lion: Andrew Jackson in the White House, which has just been published by Random House. 
"I don't want to sound grandiose, but the intellectual narrative escape is sometimes good," said Mr. Meacham to Off the Record afterward. "It's refreshing. I find it refreshing to make excursions into the past even if it's for three hours on a Sunday afternoon and watching Andrew Jackson try to destroy the Bank of the United States."
During the five years that it took Mr. Meacham to write the Jackson book, he also found time to write American Gospel: God, the Founding Fathers, and the Making of a Nation (Random House), which was released in 2006, right around the time he took over Newsweek.
And where exactly do these fellas find the time? Don't they have day jobs?
Or could it be that writing big stories and finding side projects is now an intrinsic part of a top editor's day job? Think of Tina Brown, tapping away at her book on Hillary Clinton while she manages the Daily Beast; and Vanity Fair's Graydon Carter: author, movie producer, restaurant investor.
"It's the era of the player-coach as editor, and it's a lot different than anytime beforehand," said Rick Stengel, the editor of Time, who has written many cover stories for the magazine since taking the post, and who recently signed a book deal with Crown for a Nelson Mandela biography. "It helps people realize where the direction of the magazine is. And it shows other people you're kind of doing everything."
The old way to think of an editor—as a bold visionary secluded in a cluttered office—is now apparently as old-fashioned as never-ending expense accounts and bloated mastheads.
"I think it's about marketing," Mr. Stengel opined. "The old rule of thumb is that the thing speaks for itself. Nothing speaks for itself anymore. We have to grab people by the lapels all the time and say, 'Pay attention!' [Former New Yorker editor William] Shawn had the luxury of never having to go on television. I don't think editors today have that luxury."