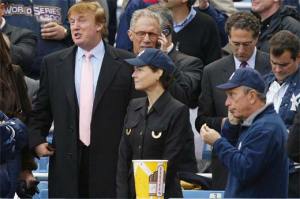 In an interview with NY1 News, Donald Trump offers the following explanation for the presidential defeat of John McCain, who he endorsed:
"McCain, really, that was almost an impossible situation. Bush has been so bad, maybe the worst president in the history of this country. He has been so incompetent, so bad, so evil that I don't think any Republican could have won. Bring back Dwight Eisenhower maybe. [McCain] really had an uphill fight."
A portion of the interview is here. It airs tonight at 7 and 10 p.m.