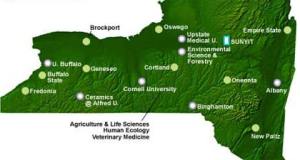 ALBANY—Another part of David Paterson's budget-bridging plan was enacted this week: a tuition hike at the state's public universities.
In January, students from New York will have to pay $310 more in tuition, and out-of-state students will pay $1,130 more for the semester, according to David Henahan, spokesman for the State University of New York. The measure was approved by a vote of S.U.N.Y.'s board of trustees on Tuesday.
Paterson requested the hike, among other measures, hoping it would raise $94 million this fiscal year and $199 million next year. Like two other items, it's something that can be implemented without action by the state legislature. And, Henahan announced today that enrollment in the university system's 64 campuses increased about three percent to 439,624.
Some students are wary of the plan. Earlier this year, other students voted in favor of a "rational tuition plan."
So that's $94 million. Paterson implemented two other changes yesterday, saving another $98 million this year.
So we're at about $200 million. Well, only $1.3 billion (or even more, as the governor claims) to go!