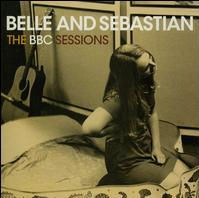 Something happened around 2001 that split off a large portion of Scottish band Belle and Sebastian's estimable fan base, which is a shame, because they've done great work since. A lot of fans had latched on to the band's infectious, bookish pop soon after its 1996 debut, Tigermilk, and five years on had simply grown out of the breezily strummed ditties and cute/wounded lyricism. Of course, the band had grown out of that, too, but cast off more listeners who grew disappointed as the band's sound roamed further and further afield, sounding more like Steely Dan or Fleetwood Mac than the apotheosis of '80s-'90s British indie-pop.
Those departed fans of the sweeter, more tender side of the band may finally return to the halcyon sound as there's a brand new album collecting some of the band's numerous BBC sessions from 1996-2001 (with Mark Radcliffe, Steve Lamacq, as well as John Peel), which may as well be a greatest hits of B&S 1.0. Early printings come with a bonus disc containing a 2001 performance in Belfast. Fans of the band's latter days should pick up the album too, since the band remains on hiatus (the last album was 2006's The Life Pursuit) and won't be heading into the studio anytime soon. Plus if you've stayed with them this far, why not just be a completist already?
In keeping with the band's left-of-centerness, alongside excellent versions of favorites from the first four albums (like opener "The State I Am In") are goofy alternate versions (the glockenspiel-heavy "Lazy Line Painter Jane," "The Wrong Girl"), and more quirky evocations of the band's style during this period, like a quartet of unreleased songs from a 2001 session. Of these, the winners are the ultra-nerdy Go-Betweens paean "Shoot the Sexual Athlete," and "Nothing in the Silence," which addresses the departure of Isobel Campbell, the group's early wispy female voice/cellist. These are the last recordings the band made with Campbell; her departure is also seen by fans as a massive sea change. It's a fabulous set whether for a trip down memory lane or a gentle entry into the band's gentlest years; as opposed to their more recent live bombast, these early recordings are bashful, mannered, and utterly delicate-sounding.