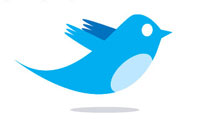 Twitter stepped into the spotlight this week, not only as a charity organizer and possible advertising goldmine during the holidays, but as a legitimate news aggregator.
Lots of tech blogs have been touting Twitter's potential since its inception, but on-the-ground reports from the Mumbai terror attacks put the idea in motion. In some cases, Twitterers were able to be on the scene long before TV and newspaper reporters could get there.
CNN reports that an estimated 80 messages, or "tweets," were being sent to Twitter.com via SMS every five seconds, providing eyewitness accounts and updates.
Many Twitter users also sent pleas for blood donors to make their way to specific hospitals in Mumbai where doctors were faced with low stocks and rising casualties.
Others sent information about helplines and contact numbers for those who had friends and relatives caught up in the attacks. Tweeters were also mobilized to help with transcribing a list of the dead and injured from hospitals, which were quickly posted online.
As Twitter user "naomieve" wrote: "Mumbai is not a city under attack as much as it is a social media experiment in action."
Twitter has been a source during emergency coordination and disaster relief since the San Diego fires in 2007. You can check out the continuing coverage on Twitter, with this Twitter Search query.