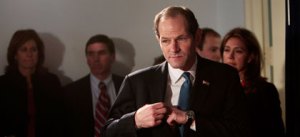 The U.S. Attorney's office will not seek charges against former Governor Eliot Spitzer, who resigned from office in March after news organizations reported that he had patronized a high-end prostitution ring.
Here's the statement from U.S. Attorney Michael Garcia.
And here, below, is a statement from Spitzer, sent by his spokeswoman Anna Cordasco:
"I understand the Office of the United States Attorney for the Southern District of New York has decided that it will not bring criminal charges against me. I appreciate the impartiality and thoroughness of the investigation by the U.S. Attorney's Office and I acknowledge and accept responsibility for the conduct it disclosed. I resigned my position as Governor because I recognized that conduct was unworthy of an elected official. I once again apologize for my actions, and for the pain and disappointment those actions caused my family and the many people who supported me during my career in public life."