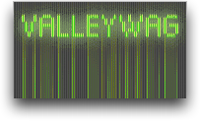 At Nick Denton's Gawker Media, the only constant is change, apparently. Yesterday, Media Mob brought news that the blog network was losing its managing editor and that Consumerist was for sale.
Today, Valleywag, the silicon valley gossip site Mr. Denton launched two and a half years ago (a look back at the site's early days reveals some adorably dated stories like Will we see a real iPod phone?), will be more or less folded into Gawker, according to a post on the site by Paul Boutin.
Here's what Mr. Boutin writes: "In 2009, Owen [Thomas, Valleywag Managing Editor] will be posting full-time, maybe 12-15 posts per day. Everyone else is fired… Denton's trying to follow Wired's footsteps: Take an insidery, localized publication and make it a national daily read."
The strange thing about this is, the re-engineering of Valleywag seems to have been Mr. Thomas' idea, as he explained in a post headlined Extremely literal boss demotes editor to columnist:
In the wake of his apocalyptic predictions for the online-advertising market, Nick Denton, the owner of Valleywag publisher Gawker Media, read my offhand quip about how I would soon be writing Valleywag as a column for Gizmodo or Gawker, whichever will take me" as a brilliant business suggestion, and he's taking me up on the idea.
Mr. Thomas added, "Nick, I was joking, but if you really think I have such keen insight into how to manage your Web properties, why not make me a strategic consultant to Gawker Media instead — and give me a hefty raise while you're at it?"
In early October, Mr. Denton shuffled the deck on his blog network, letting go of 19 employees (including some at Valleywag). At the time, Mr. Denton wrote in a widely leaked memo:
Sites such as Consumerist, whose success has been measured more in traffic and recognition than in revenue, now need to cover their costs. I can't underline enough that this harsh commercial judgment is no reflection whatsoever on the editorial teams that are being cut.
Each of these sites performs a vital function. Consumerist provides an outlet for disgruntled consumers that exists nowhere else on the web; Valleywag has given puffed-up Silicon Valley the prick it's long needed; and Fleshbot manages to be classy and filthy at the same time. The site leads and writers on all of our sites have done exactly what we asked them to: work harder than the competition and grow the audience. It's my commercial judgment that's been at fault.