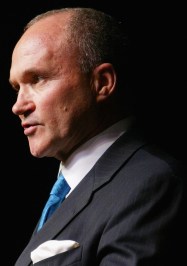 Police Commissioner Ray Kelly walked into the City Council chamber before most of the reporters had even gotten settled into their seats. The 10 a.m. budget hearing on public safety – where Kelly would explain how he plans to keep crime down while the mayor cancels an entire class of police cadets – wasn't starting on time.
Peter Vallone Jr., who chairs the public safety committee said there's little that Kelly could say to take the sting off today's testimony.
"Even Batman couldn't do that much more with this less," Vallone said, before walking over to Kelly for a chat and photo opportunity.