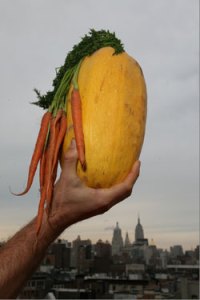 Glenn Bunger, a 38-year-old teacher from Manhattan, was driving in rural Pennsylvania last month when he saw a roadside farm. Screech! Mr. Bunger had been seeking a plump pumpkin into which he could carve the Barack Obama sunrise logo, but as he perused the crates of fresh produce, something more impressive caught his eye: an enormous, perfect-looking butternut squash, placed on a table between pots of mums and some perennial herbs.
"I just knew I had to try it," he said, still sounding a bit awed.
Back in the city that evening, Mr. Bunger, who is decidedly not a vegetarian (he's from Texas), roasted the squash, which had cost $3.50, with brown sugar and butter. Then he made a purée with the leftovers. It was a veritable feast, he said.
Only 10 years ago, Manhattan was gripped with meat fever: stockbrokers chomping on steaks; chefs competing to see who could offer the most unusual offal; magazine editors slavishly following the diktat of Dr. Atkins (some getting bad breath in the process). These days, the opposite is true. In some of the city's finest restaurants, vegetables are getting more room on the dish, at times even taking center stage. The corner butcher gently guiding a housewife through her first pot roast now seems quaint; these days we have a legion of househusbands prowling the farmer's markets, gawking at the cauliflower and palpating the parsnips.
Could it be that vegetables are the new meat?
"I like the sound of that!" said Alex Paffenroth, owner of Paffenroth Gardens, said to have the best produce at the Union Square Greenmarket.
It was a frigid Wednesday morning in mid-November, and Mr. Paffenroth, a burly man of 64, was standing at the back of his box truck in the market's northeast corner, flipping through pink carbon-copied receipts of vegetable orders from restaurants including Five Points, Telepan, Savoy, Blue Hill and Gramercy Tavern, whose purveyors had already stopped by to claim the day's bounty. His daughter, 32-year-old Deanne, of Williamsburg, was ringing up customers in front of a portable space heater.
"The real rush will start around lunchtime," she said.
The place was filled with real men, not bloodless hippies in hemp shirts.
Gary Liliean, 48, a farmer's market regular wearing a black coat and a baseball cap, placed a plastic bag filled with 3 pounds' worth of fingerling potatoes (a side dish for Thanksgiving dinner) down on the scale.
"It's fun!" said Mr. Liliean, who runs a lighting rental department, of his weekly trips to the greenmarket. "You wander around. It's like impulse shopping."
Standing nearby with a sizable parsnip in each hand was Joe Beshenkovsky, a 32-year-old TV editor who lives in the West Village. Mr. Beshenkovsky still eats meat, but started making vegetables the cornerstone of his diet about three years ago. He said he wanted to eat more healthfully, and preempt becoming "egregiously fat." He visits the farmer's market twice a week to stock up on produce.
"These puppies?" he said, proudly holding up the two tubers as if to show off his catch, "I'll either bake 'em for dinner or toss them in the microwave for a snack."  
POWER BROKER ON THE PLATE
A 2004 survey conducted by the city health department found that 90 percent of New Yorkers eat fewer than five servings of vegetables or fruit per day, a spokeswoman for the bureau pointed out.
But 2004 was also the year that Thomas Keller's Per Se burst  on the scene, with its forest mizuna and field mushrooms. In his four-star review, New York Times critic Frank Bruni praised the restaurant's nine-course vegetable tasting (now $275)—"of all things," he marveled, adding, "Lobster is easy; potato salad is hard."
Meanwhile, "locavorism," which posits that everyone should eat food produced within 50 to 100 miles of their homes for environmental reasons, has gone mainstream; The Oxford American Dictionary named "locavore" its word of the year for 2007. Initially perceived as a way of life for patchouli-soaked do-gooders, the movement has gotten a considerable PR boost from food-world notables like journalist-author Michael Pollan ("Eat food. Not too much. Mostly plants") and celebrity chef Emeril Lagasse—yes, the same man known for his testosterone-soaked "BAMS!"
Last spring, Mayor Michael Bloomberg signed legislation issuing 1,000 permits for produce-only food carts in low-income areas where fresh vegetables and fruit are not easy to come by. Marcel Van Ooyen, executive director of the Council on the Environment of New York City, said that about 20 of the organization's 46 greenmarkets just opened in the past three years. And the number of farmer's markets statewide has nearly doubled in the past 10 years, said Jessica Chittenden, a spokeswoman for the New York State Department of Agriculture.
"People are looking for more rare and exotic produce," said Ms. Chittenden. "So we've seen an increase in the diversity of produce our farmers are growing; more heirloom varieties and things that may not have fit a niche back when people were just looking for the roundest, reddest tomatoes."