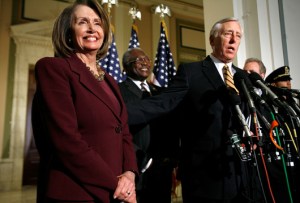 Officially, Nancy Pelosi isn't taking sides in the heated fight between John Dingell and Henry Waxman for the chairmanship of the mighty House Energy and Commerce Committee — a panel that will play a pivotal role in shaping energy, climate change, and health care policy during the next administration.
Don't believe her. Pelosi's record suggests strongly that she won't remain neutral in a critical fight like this, and furthermore, that she'll take the occasion to help one of Congress' most prominent liberals topple, once and for all, an entrenched nemesis.
Democrats on Capitol Hill still remember Pelosi's avowed neutrality in a party leadership race three years ago – followed by her sudden, last-minute muscling on behalf of a candidate, Connecticut's John Larson, who had been dismissed as a hopeless also-ran. Larson won that race for caucus vice chairman, an outcome that remains one of the biggest upsets in the history of leadership contests, and Pelosi never fessed up to her role. Not that it mattered – she made her point, and got her way.
Two years ago, almost immediately after Democrats won back the House for the first time in 12 years, Pelosi was far more open about her designs, loudly thrusting herself into John Murtha's effort to unseat Steny Hoyer from the party's No. 2 leadership slot. Hoyer had lost out to Pelosi for the top leadership slot earlier in the decade, and Pelosi's move was seen as an act of revenge – and an effort to insulate herself from dissent. Pelosi publicly endorsed Murtha, and she and her loyalists began making threats, in person and through the media, to backbenchers, a heavyhanded campaign that backfired and sent rank-and-file members flocking to Hoyer on the secret ballot.
Given that experience, no one is surprised that the speaker has been so tight-lipped in the Waxman-Dingell contest, which should be settled by a vote of the full Democratic caucus this Thursday. But everything about Pelosi's ideology, style and history suggests she's squarely behind Waxman – and that, before it's over, she will be heard from.
In fact, an event that may have been the impetus for Waxman's challenge to Dingell, an 82-year-old icon who is set in February to become the House's longest-serving member ever, probably tells you all you need to know.
Two Januarys ago, as the Democrats reclaimed the House, Dingell was handed the Energy and Commerce gavel, which he had previously held from 1981 to 1995. Waxman, who had used his perch as an Energy and Commerce subcommittee chairman in the '80s and '90s to push for AIDS funding and investigations of tobacco companies, was in line for the Oversight and Government Reform gavel. Even though they headed separate committees, the two men failed to co-exist.
That June, just five months into the new Congress, Dingell drafted an energy policy bill that seemed designed to protect the auto industry from onerous fuel economy standards – hardly a surprise, given Dingell's Michigan roots and his status as the industry's chief protector on Capitol Hill. He also took aim at efforts by individual states to impose CAFÉ standards of their own, arguing that the federal Department of Transportation had sole authority in the matter.
Environmentalists howled and Waxman, a committed liberal whose district includes Beverly Hills, Santa Monica and West Hollywood, rallied Democrats in opposition to Dingell's plan, drafting his own rival bill, which came down much harder on the auto industry. Shortly thereafter, Dingell, Waxman and several other chairmen were called into Pelosi's office. At first, Dingell tried to defend his plan. But Pelosi quickly cut him off, and she and Waxman then took turns ripping into his initiative.
It was a seminal moment in Pelosi's reign. Earlier Democratic speakers would have been powerless to deny Dingell his will. In the old days, when Democrats seemed to have a permanent House majority, speakers would come and go while old bulls like Dingell clung to their gavels, accumulating more and more unchecked power. But Pelosi came to the job with much more centralized authority, having led a band of Democrats who hadn't been around for the old days out of the wilderness and into the majority. In standing up to Dingell – and winning – she made a statement that policy would be set by her office, not by committee chairmen.
Not that her move reduced committee chairmen to figurehead status, mind you. They still have broad powers to shape legislation to their liking – and to disrupt it when they don't like it. Fittingly, Waxman is making climate change, and Dingell's supposed obeisance to Detroit, the cornerstone of his challenge. And with a Democratic president who seems eager to affect sweeping energy policy change taking office in January, his policy dispute with Dingell looms larger than ever. Pelosi, as she has made clear repeatedly, sees climate change and energy policy through the same lens as Waxman – if she has a chance to dump Dingell, why wouldn't she take it?
She has other motives, too.
As she demonstrated with Hoyer, her old foe, two years ago, Pelosi has a long memory, and an endless willingness to act on her grudges. In this sense, she inherited the instincts of her father, Thomas D'Alesando, who would never have survived for 12 years as Baltimore's mayor without watching his back.
Dingell has crossed Pelosi many times. In the late '90s and early part of this decade, he strongly backed Hoyer as Hoyer and Pelosi vied, through fits and starts, for the top job in the Democratic caucus. He also backed Hoyer two years ago, when Pelosi failed to take him out. In 2002, redistricting forced Dingell, who'd held his seat since 1955, into a primary race against Lynn Rivers, who'd been elected in 1994. Pelosi went to Michigan to campaign for Rivers, who nonetheless lost.
Simply put, Pelosi and Dingell see the world in a fundamentally different way. Ideologically, she embodies West Coast liberalism – stridently antiwar, far to the left on social and cultural issues, and disdainful of free-market purists. Dingell epitomizes what the Democratic Party once was: He's ethnic Catholic from a working-class district who believes that his party should stand for full employment and a robust social safety net. Abortion, gay rights, gun control and the environmental movement have never meant much to him.
What has made Pelosi unique, both in her rise in the House and during her tenure as speaker, has been her ability to combine the liberal idealism of her adult hometown, San Francisco, with the bare-knuckle politics she learned as a daughter of Baltimore. That's why it's hard to believe that she's not behind Waxman's challenge – or, at the very least, that she hasn't been flexing her muscle behind the scene.
A clear answer could emerge today, when the 52-member Steering and Policy Committee of the Democratic Caucus meets to recommend a slate of committee chairmen for the next Congress. Steering and Policy won't have the final word – a full vote of the entire caucus will probably come on Thursday – but it is packed with Pelosi's loyalists. If Waxman is the panel's choice, the speaker's fingerprints will be all over it. Then again, maybe she'll just wait another day to show her hand.