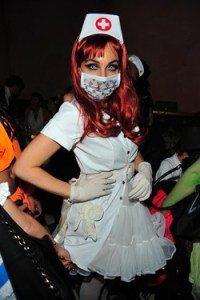 While Allison Sarofim's annual Halloween party took place the weekend before Halloween, most people celebrated on the actual day since this year it fell on Friday–and there were plenty of masquerades and balls for New York's socials to attend. Some stopped by the several parties going on around town, while others camped out and grazed on bottle service at one location. Here's the Daily Transom's roundup of who went where, as what, and with whom, based on some careful perusal of the Patrick McMullan website. 
The biggest socialite turn-out seemed to be at the Rose Bar at the Gramercy Park Hotel, where the bar's creative director Nur Khan and One Management modeling agency president Scott Lipps threw a Halloween party hosted by Jeremy Piven and model Jessica Hart. The costumes trended to the traditional, with Fabiola Beracasa and Genevieve Jones dressed as nurses, Alex Kramer as a school girl, Julia Restoin Roitfeld as a sexy maid, and Russian designer and gallerist Dasha Zhukova as a sailor.
Heidi Klum's Halloween Party at 1 Oak was attended by Christian Siriano as Cruella Deville (and his boyfriend, photographer Brad Walsh, as a dalmatian), singer Pink as a clown, and Ms. Klum as some of sort of a blue Indian goddess with many hands. 
Accompanied Literary Society founder Brooke Geahan hosted a party at Bagatelle in the Meatpacking District, showcasing an Edgar Allen Poe verse, Lady Irene, that had not been viewed since 1830. Josh Lucas, dressed as the futuristic Mr. Poe, did an official reading of the poem. Mary-Kate Olsen stopped by dressed as a fairy in a long white dress and glittery make-up; she sat around with socialite Arden Wohl, who was holding a retro cigarette holder, and actor Leo Fitzpatrick. Also, David Schwimmer made an appearance dressed as himself, as did Emma Snowden Jones. 
Freeman's restaurant owner Taavo Somer, Earnest Sewn's Carlos Quirarte, DJ Matt Creed, and artist/DJ Matt Kliegman hosted a "Day of the Dead" party at a warehouse space off Cortlandt Alley attended by designer Rogan Gregory dressed as Jesus Christ, Charlotte Ronson as a Hooters girl, and downtown "it" thing Cory Kennedy  as Thing 2. Ms. Olsen also stopped by with Mr. Fitzpatrick after the Accompanied Literary Society party.

Meanwhile, at Bette Midler's "Hulaween" party, Andre Leon Talley wore a navy suit, Michael Kors wore a long wig of black hair, John McEnroe wore a tall wizard's hat, and Suze Orman showed up as a pile of money. Police Commissioner Ray Kelly arrived sans costume.