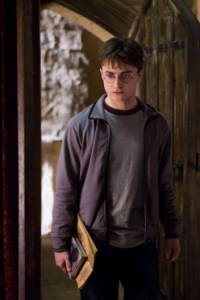 Proving that it's never too early to peer into the future, the Times Online has published their list of the 50 most anticipated films of 2009. We're onto next year already? We still have to catch up on all the things we missed this year! (When is Eagle Eye coming out on DVD?) A cursory glace leads us to believe that 2009 will look a lot like 2008. If you're a fan of sequels, big budget action spectacles and comic books, Hollywood has you covered.
Accordingly, the Times lists Harry Potter and the Half Blood Prince as the biggest movie in 2009. Originally scheduled to be released around Thanksgiving, the sixth film in the series was pushed back to July so Warner Brothers could have a summer tent pole. In what we'd consider an upset, Michael Mann's 1930s gangster romp Public Enemies checks in at number two. Starring Johnny Depp as John Dillinger, Christian Bale as the FBI agent trying to bring him down and Billy Crudup as J. Edgar Hoover, it might be Mr. Mann's chance at Oscar glory. Mr. Crudup and Mr. Bale are actually going to be quite busy next year. The Almost Famous star appears in Watchmen (number 4 on the list), while the Dark Knight himself starts yet another franchise reboot with Terminator: Salvation (number 9).
What struck us though was the exclusion of what are sure to be two of the most talked about movies of next year: Pixar's Up and Judd Apatow's Funny People. The just released teaser trailer for Up looks predictably amazing. The story of a grumpy old man (voiced by Ed Asner) who fulfills his deceased wife's dream of going on an African adventure by tying a bunch of balloons to his house and floating away is right in Pixar's melancholy wheel-house. As for Funny People, by the time it's released it'll be the first new directorial offering from Mr. Apatow in two years. A recent script review has us salivating that Funny People might be the fabled next step in his career: a funny, sad, warm and adult take on mortality and relationships… but with dick jokes. Adam Sandler, Seth Rogen, Eric Bana, Jason Schwartman and Jonah Hill star. Both films hit theaters next summer.
Here's the top-ten:
1.) Harry Potter and the Half Blood Prince (dir. David Yates, July 2009)
2.) Public Enemies (dir. Michael Mann, July 2009)
3.) Star Trek (dir. J.J. Abrams, May 2009)
4.) Watchmen (dir. Zack Snyder, March 2009)
5.) X-Men Origins: Wolverine (Gavin Hood, May 2009)
6.) Angels & Demons (Ron Howard, May 2009)
7.) Avatar (James Cameron, December 2009)
8.) Monsters vs. Aliens (Rob Letterman & Conrad Vernon, March 2009)
9.) Terminator: Salvation (McG, May 2009)
10.) Inglourious Basterds (Quentin Tarantino, June 2009)