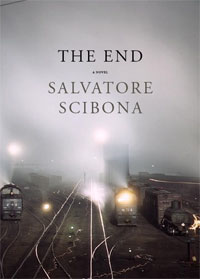 Two weeks after their homegrown debut author Salvatore Scibona was nominated for the National Book Award in fiction, Minnesota-based Graywolf Press, which Ben Westhoff of The Minneapolis City Pages recently praised as "one of the best" presses in America, has sold the paperback rights to his recently published novel, The End, to the Riverhead imprint of Penguin Group USA for less than $50,000.
Why did they do it? Wouldn't they have made a lot more money if they'd published the paperback edition themselves?
According to editorial director Katie Deblinski, it was not an easy decision, but it came down to the fact that Riverhead, a publisher with corporate resources and a proven track record with paperbacks, is better equipped to market the book now that its profile is so much greater than it was before the NBA nomination.
"We felt it would be an advantage for the book to have the deeper pockets of a bigger house," Ms. Deblinski said. "It becomes a matter of printing a lot of copies and really doing a ton of advertising, and we just have smaller budgets."
The deal with Riverhead will look like an especially smart bet for Graywolf if the book doesn't win the National Book Award. If it does, though, Riverhead will have gotten a bargain.
Director of publicity Mary Matze said it's likely that a win at the NBAs would have meant big paperback profits for Graywolf, but that the risk involved in holding onto them instead of taking one of the many offers being thrown at them since the nominations were announced was too great.
"It's a sticky situation, and we really went back and forth with the author on it because he was like, 'Why are you doing this!'" Ms. Matze said. "We had a lot of hesitation but I think ultimately it will be the best thing for the book, which is what we want."
She went on: "We felt like if he doesn't win, then Riverhead is probably going to be the best home for him and for this book in the long term, and if he does win, we still have a good deal worked out with Riverhead, though of course it would have been more beneficial for us to keep the paperback rights. Even in that case, a publisher like Riverhead is going to have advertising dollars that a press like Graywolf doesn't really have."
This way, Ms. Matze said, "it's a guaranteed profit both for us and the author." The advance Riverhead is paying Graywolf is money they can count on regardless of what happens Nov. 19th.
"There is some risk involved… whether he wins the National Book Award or not," Ms. Matze said. "There's a little bit of a bump in sales right now because he's nominated, but if he doesn't win, the focus is going to go to that winner."
Under those circumstances, according to Ms. Matze, Riverhead will be able to give the book more exposure and offer it a longer shelf-life.