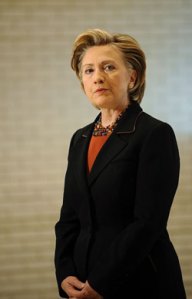 Why, if you're Barack Obama, would you choose Hillary Clinton to be your secretary of state?
Yes, since it was first reported last week that the two had met to discuss the possibility, there has been no shortage of theories in the press: He wants her out of the Senate and into a pliant administration post; he's paying her back for conceding graciously and then campaigning for him; he wants to score points with women voters.
But if you ask some of the most prominent members of the Democratic foreign policy establishment, the consensus about her appeal as a potential secretary of state is much simpler: She'll deliver.
"She is tough," said Will Marshall, president and founder of the Progressive Policy Institute, a Democratic think tank that advocates a muscular foreign policy. "Lingering doubts about Democratic resolve on national security questions are put to rest with Hillary in the job. She has a demonstrable quotient of backbone."
More dovish experts are also excited about the prospect of Secretary Clinton, albeit for slightly different reasons.
"Her top, top, top advisers told me, 'Steve, she will animate things in the Middle East—she will deliver a Palestinian state. Gold-plated,'" said Steven Clemons, a senior fellow at the New America Foundation in Washington. Mr. Clemons also noted the irony that Mrs. Clinton potentially would be tasked with preparing the road for the direct negotiations with antagonistic foreign leaders that she excoriated Mr. Obama over during the primary. "She criticized him so much for going to meet foreign leaders without preconditions; now she is the one who is going to have to go and get all the preconditions sorted out."
The idea, essentially, is that Mrs. Clinton, by virtue of her worldview and independent public profile, would be able to expand the purview of the office and become an unusually powerful surrogate for Mr. Obama's foreign policy ideas. 
"He's got to concentrate the first couple of years on the economy, and he needs a very high-profile secretary of state to handle the stuff abroad," said Les Gelb, the former president of the Council on Foreign Relations.
If her rhetoric on the campaign trail this year was anything to go by, her strong views about the rest of the world would almost certainly precede her. (Obviously exaggerated claims about dodging sniper fire in Bosnia and bringing peace to Northern Ireland notwithstanding.)
On the Middle East, for example, she criticized the Bush administration for allowing peace negotiations to falter. On Iran, though, she excoriated Mr. Obama as "naïve" for declaring that he would meet unconditionally with President Mahmoud Ahmadinejad. And on the administration's dealings with Russia, she said, "This is the president that looked in the soul of Putin, and I could have told him, he was a K.G.B. agent. By definition, he doesn't have a soul."
"I think she combines new security and old security, by which I mean she is not afraid of the use of force, and she understands great-power politics and will be plenty prepared to be tough where necessary, either on nonstate issues or on states like Russia if need be," said Anne-Marie Slaughter, the dean of the Woodrow Wilson School of Public and International Affairs at Princeton University, and an often-mentioned candidate for secretary of state during the primaries. "But at the same time, she really gets the transnational issues. I think she is much less about democracy per se than she is about human rights. In that sense she was influenced by the Clinton Global Initiative.
"The promise of her being secretary of state," added Ms. Slaughter, "would be to unite those two worlds."
Or as Representative Pete King, a Republican hawk, admiringly put it: "She is from the very realistic wing of the Democratic Party. I don't think she is going to have any delusions about trusting her enemies."
The question now is whether it will actually happen and, if a firm offer was made, whether Mrs. Clinton would give up her unassailable hold on a U.S. Senate seat to take the post.