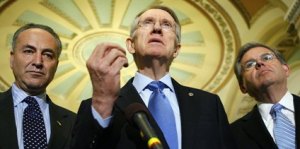 WASHINGTON—Senator Chuck Schumer's status as Chairman of the Democratic Senatorial Campaign Committee became no clearer following a closed-door Democratic Caucus meeting today.
Asked about whether Schumer would be staying on in the campaign role, his potential successor, New Jersey Senator Robert Mendendez said only, "Ask Harry Reid," before hurrying away.
Schumer, who as head of the DSCC has led Senate Democrats to two consecutive winning election cycles, has never been known to shy away from the press. But he, too, has remained noticeably coy about his future at the committee, swatting away repeated inquiries from reporters.
Trailed by several reporters Monday following the meeting, which largely centered on the question of whether Senator Joe Lieberman would retain his gavel on the Homeland Security and Governmental Affairs Committee, Schumer said, as he has before, that he will remain chairman of the DSCC until outstanding races in Minnesota, Alaska, and Georgia are resolved.
"All I'm saying is, I'm not jumping at the future. I'm staying in to handle the three races, and then we'll decide what to do," Schumer said.
Today Republicans selected Texas Senator John Cornyn to lead their campaign arm in the 2010 cycle. In an interview, Cornyn pledged to immediately begin getting to work at the committee. Schumer did not respond when a reporter asked if the G.O.P. committee was getting a head start on the new cycle.
In a separate interview, Reid, the Senate majority leader, repeated Schumer's line—no decision about DSCC leadership would be made until after the outstanding races are sorted out.
Reid would be tasked with choosing a successor to Schumer, should he leave the DSCC.