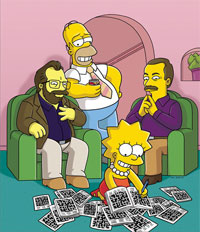 There's got to be a clever pun about crossovers here somewhere.
Will Shortz, The New York Times crosswords editor who recently promised to donate his 20,000 puzzle books to Indiana University, will be appearing in this week's episode of The Simpsons (along with prolific puzzle maker Merl Reagle, according to The Hartford Courant's Frank Rizzo) in an episode that focuses on Lisa Simpson entering a crossword tournament.
In real life, that same day, The New York Times and The Hartford Courant will feature Simpsons-themed puzzles. (This comes via TVTattle.)
Fans of the documentary Wordplay (which features Messrs. Shortz and Reagle along with President Bill Clinton, Jon Stewart, former Times Public Editor Daniel Okrent, and other puzzle fanatics) or Marc Romano's book Crossworld: One Man's Journey Into America's Crossword Obsession already know how intense those competitive crossword events can be.
Mr. Rizzo quotes Simpsons producer Tim Long boasting that the show will be the "most crossword-intensive half-hour of television in the history of America."