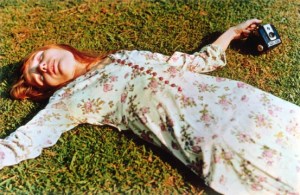 In 1976, the photographer William Eggleston was the subject of a one-man show at MoMA. The Memphis-born Eggleston wasn't yet forty, young for a time when it was still unusual for an artist to get the retrospective treatment before middle-age. His startlingly full-color photographs–the product of a costly dye transfer process that laid it like mud from the river-delta–touched off nerves.
It didn't help that Eggleston's chosen subject was the tacky, fairly sinful corners of the American south: juke-joints, cinderblock architecture, cotton fields, an American continent of crapola. The show was panned, getting the kinds of reviews that, once the stinging subsides a little, mean only one thing for a young artist: you've made it.
Eggleston is back in New York this week. A retrospective of some 150 photographs, his first since the MoMA show, opens today at the Whitney Museum. "William Eggleston: Democratic Camera" helps to sets Eggleston's place in the generation of American photographers that followed Robert Frank. Lee Friedlander and Stephen Shore are two of the necessary citations. So is Diane Arbus.
Here's a clip of Eggleston talking about photography.
Where did the Southern gentleman come into possession of such a voice? Smoking and drinking, probably. (Eggleston is a noted carouser.) Listening to the man speak, one feels that had photography not worked out, Eggleston could have made a fine addition as a back-up singer to another notable artistic product of late-60s Memphis: The Box Tops.