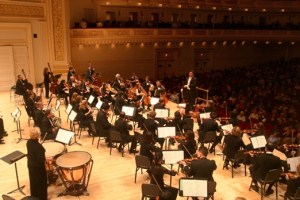 When Jourdan Urbach took the stage at Carnegie Hall Saturday night, he looked every bit the part of the prodigy. Clad in a matching gold vest and tie, French cuffs flared loosely around large hands that must have identified him early as suited to the violin, the 16-year-old rocked shyly from side to side as he stood before the orchestra, waiting for his moment to join in. When the moment struck, he morphed into an arrow of confidence, suddenly competing with conductor David Bernard for the orchestra's attention. And lucky too for those in the audience: Without Mr. Urbach, the Park Avenue Chamber Symphony had lurched diffidently through their opening piece, Rimsky-Korsakov's Capriccio espagnol. Their reawakening was a testament to the influence a brilliant individual can have over a desultory group.
Skipping ahead to get the disappointing stuff out of the way: the Park Avenue Chamber Symphony ended the evening on its own again with a didactic rendering of Beethoven's "Eroica" Symphony. But their intentions were good: The night was dedicated to raising money for multiple sclerosis research, a cause to which Mr. Urbach has admirably dedicated himself, a fact underscored with a short performance by country singer Clay Walker, who was diagnosed with MS in 1996 and who, like Mr. Urbach, has joined his music to the cause of finding a cure.
Twice during the evening, this populism worked musically: first, when Mr. Walker's Band Against MS played two quiet love songs; and second, when Mr. Urbach put down his wooden violin and picked up a fretted, six-string, flying-V-shaped electric one, complete with effects pedals. He soloed over a piece composed in memory of an MS victim, engaging in what can only be called shredding: rapid scales, screeching harmonics, swooping dives–the native musical language of teenage boys everywhere. It was impossible not to like.