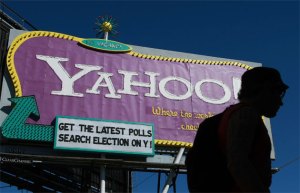 Following Jerry Yang's departure from C.E.O. of Yahoo!, The Wall Street Journal's Jessica E. Vascellaro and Joann S. Lublin are reporting this morning that Yahoo!'s board is searching for the "anti-Jerry" to fill his roll. Sources say Yahoo!'s co-founder just couldn't make the tough decisions.
Per Ms. Vascellaro and Ms. Lublin:
"This company has shown a failure to execute," said a person familiar with the situation. Yahoo's next CEO "can't be just a thinker."
Will Facebook's Mark Zuckerberg meet his fate? The kid has big ideas about mapping our emotions and making the world a better place. Despite recent moves to make profit, his employees seems frustrated with his inability to find (and accept) financial opportunities. Sounds familiar.
From WSJ:
In many ways, Mr. Yang was better suited to building a young company than to steering a more-mature company in a crisis, said current and former employees. When Mr. Yang had the visionary's title of "Chief Yahoo," executives turned to him for insights about future trends. He drew fans as a beloved geek and cheerleader, hitting it off with engineers for his penchant for rattling off technical terms in casual conversation, current and former employees said.
Given Mr. Yang's passion for the company, employees were initially excited to see what change he could bring as CEO. But the mood changed quickly amid the perception that he began punting tough decisions — such as whether Yahoo should sell its search business.
"The thing that Yahoo needs most is someone who can make decisions and who is comfortable with the risk of making fast decisions," said one former Yahoo executive.
While speculation continues about who will take over Yahoo!, we wonder if Mr. Zuckerberg will be on the outs at Facebook soon, too.