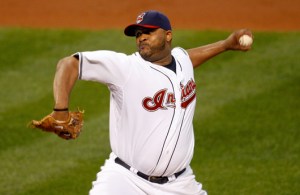 Free agency opens on Friday. The Yankees need to sign C.C. Sabathia as soon as possible once it does. He is not the final piece—but it will be extremely difficult for New York them to win in 2009 without him. He represents something the Yankees do not have: an in-prime superstar.
Let's start with the obvious: the Yankees need a number-one starter. Their best starter in 2008, Mike Mussina, is likely to retire. That means the team needs to replace 200 innings of 3.37 ERA pitching just to keep pace with the 89 wins from 2008.
Joba Chamberlain, likely slated to be a starter for a full season in 2009, is a good bet to provide ace-level performance if he stays healthy. After all, he did pitch to a 2.76 ERA as a starter in 2008. But the 12 starts he provided last year won't be enough: Chamberlain still needs to prove he can provide a full season with those results.
No one has been better at doing that than C.C. Sabathia over the past two seasons. Not only has Sabathia pitched to a 3.21 ERA and 2.70 ERA in 2007-2008, he pitched 241 innings in 2007, and 253 innings in 2008—easily leading the league. His strikeout rate actually ticked higher in 2008, indicating that the workload in 2007 hadn't negatively affected his performance. (His postseason struggles in both years should merely serve notice to the Yankees to go a bit easier on him than Cleveland and particularly Milwaukee did, pitching him on three days' rest three times in the season's final days.)
One hidden aspect of adding Sabathia is that it is tantamount to adding a dominant reliever as well as a starter, when compared to other free-agent options. Take A.J. Burnett, for example, widely considered a Plan B target for New York should Sabathia sign elsewhere. His innings total over the past two seasons is 387, or an average of 193-plus. Sabathia averaged 247 innings in 2007-08. Yet Sabathia allowed a total of seven fewer earned runs over the two seasons than Burnett did. That's an extra 53 innings each year of better than shutout pitching. Even Mariano Rivera isn't that good.
Normally, the common mistake with free-agent signings is assuming that past performance guarantees future success. In this case, Sabathia is a far better bet to be as good or better moving forward than Burnett, whose best bet is a regression. Sabathia is 28, and doesn't turn 29 until next July, meaning he is right in his prime; Burnett will be 32 in January, likely exiting his prime.
This is truly an epidemic problem for the Yankee roster, with nearly every key player likely pre- or post-prime heading into 2009. Derek Jeter, Johnny Damon, Hideki Matsui, Jorge Posada, Mariano Rivera, and Andy Pettitte and Bobby Abreu (should they return) will all be 35 or older during the 2009 season. Even Alex Rodriguez will be 33. Meanwhile, Chamberlain, Phil Hughes and Ian Kennedy will all be 24 or younger. Only Robinson Cano and Chien-Ming Wang are Yankees entering what should be their primes. But Wang missed most of 2008 with injury, and following a hugely disappointing 2008, Cano is prominently mentioned in trade talks.
Such players aren't necessarily destined to fail. The 2007 Yankees made the playoffs with an offensive core of older stars; the 2008 Tampa Bay Rays won the American League Pennant with much of the roster under 25. But those are exceptions: the rule is generally that of the 2008 Yankees, or even the crosstown Mets, who relied upon the aged Orlando Hernandez, Pedro Martinez, Moises Alou and Billy Wagner, to their ultimate peril.
Adding Sabathia is no guarantee, of course; injuries happen. But it can begin the process of improving New York's percentage likelihood of success—something that should already be in place with a payroll of more than $200 million. Sabathia may not be a sure thing, but he's as close as pitchers come: no injury history, a strikeout rate that indicates even his decline phase at the tail end of the six or seven-year deal likely required will still be quite effective.
He'll cost the Yankees no players, just a pair of draft picks and a boatload of money. But the chances either draft pick will become the player Sabathia is in his prime are virtually nil, and there is no better way for New York to spend that money, whatever it takes.