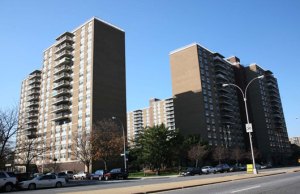 Donald Cogsville, the unusually attractive real estate developer, former pro soccer player and one of the two remaining bidders for Starrett City, sought to downplay reports that the sale of the nation's largest federally subsidized housing complex is at a standstill, saying the transaction could still be completed by the end of 2008.
"The sale is not on hold," he told The Observer last week. "Everyone is moving forward to complete it."
But a source close to the negotiations later directly contradicted Mr. Cogsville, saying unequivocally that the negotiations are in fact "on hold."
Talk about mixed messages!
The source confirmed reports that the stall-out is related to a dispute over how the units should be valued. Apparently, Starrett City Associates, which has been working with the federal government to sell the East New York complex since 2007 to a developer who will preserve its affordability, would like a higher price for it. Reports have put Starrett's price at around $700 million, although earlier, pre-financial-crisis reports pegged it around $1 billion.
But Mr. Cogsville contends that such lengthy negotiations are to be expected, given the complexity of the transaction and the many players involved.
"Frankly, there has never been a timeline, not one I'm aware of, in any case," Mr. Cogsville said. "Certainly, there was an informal notion that a transaction would at least be signed in 2008," something that he said is still possible.
Mr. Cogsville, who said his financing is not contingent upon any sort of timeline, is the CEO of the nearly two-year-old real estate investment firm called the Cogsville Group, which has partnered with the Christian Cultural Center, the Housing Partnership Development Corporation and the Clarett Group in an effort to buy the 5,881-unit complex. They're competing against a group made up of Westbrook Partners, Citigroup, the Metropolitan Council on Jewish Poverty and the New York City Central Labor Council, among others.
The source close to the negotiations said that while they are on hold, "there's always hope" that some sort of sale can be completed at some indeterminate point in the future.
drubinstein@observer.com