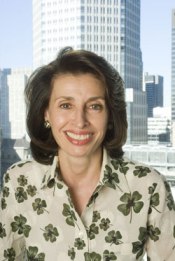 We're running down some of our memorable stories from '08 today.
August 5
Ladies of the Field: 'You Must Never Cry'
To cover commercial real estate in the year 2008 is to experience the distinct sensation that you've stumbled into the 1950s, or onto Staten Island. It's a world in which men joke about "broads" at the male-mostly conference table, where spotting a woman at a Real Estate Board luncheon is a cinch—she's the sole red-breasted bird in the forest of white-crested pinstripes and charcoals.
Here, in this bizarro throwback of an industry, members can tick off on their fingers the influential women among them. Mary Ann Tighe, the fiercely powerful CEO for the tristate region at CB Richard Ellis, is always the first name, followed by the firm's mighty vice chairman for investment properties, Darcy Stacom. Industry members might also mention Faith Hope Consolo, Leslie Himmel, Patricia Goldstein and a couple of others. And that, we fear, is that.