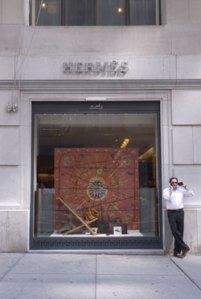 Our last look back at '08 today. Happy New Year and see you tomorrow! Be safe.
September 23
Ask anyone around Wall Street these days: Are bankers still buying ties? Inevitably, someone will respond, "What, to hang themselves?"
"Isn't this a cool tie?" gushed an eager saleswoman at the chic Hermès boutique at 15 Broad Street, conveniently across from the New York Stock Exchange.
It was a lustrous, sky-blue tie, made of 100 percent silk, with undulating aqua-colored oval shapes and tiny gray floral patterns. (And it would just look great with my jacket, she added.)
This tie was something unique, she explained, the only one of its kind across the entire 4,000-square-foot selling floor.
Turned out someone else had returned it earlier that day for a refund.