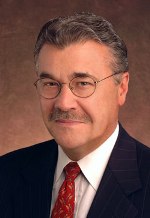 Second-to-last look back from our '08 archives:
October 7
Landlords' Reign Atop Office Market Ends; Stats Point to Dismal '09 Start
It was a dour Tuesday morning at Michael's, as Cushman & Wakefield brokers and their assorted guests gathered in the back room for the third-quarter office market analysis and scrambled eggs with chives on top.
Joseph Harbert, Cushman's chief operating officer for the New York region, spoke in somber tones, grasping repeatedly for something called "historical perspective" in order to make sense of the ordeal, or at least lessen its apparent magnitude.
The numbers told a stark tale of increasing vacancy rates, dropping rents, and negative absorption.