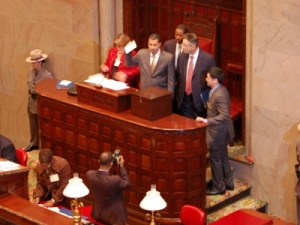 ALBANY—What do a Democratic assemblyman from the Bronx, a Republican state senator from Rome, a good-government advocate and the Niagara County Republican chairman have in common?
They all oppose New York's current system for selecting a vacancy for the U.S. Senate.
"New York has a system of special elections for vacancies in the state legislature–why not emulate that for the federal seat?" said Susan Lerner, executive director of Common Cause NY. "The way that things have played out over the last few weeks have been disappointing."
She is calling for a special election, pointing out that whoever is picked to fill Clinton's seat would have to run again in 2010 anyway, and then again in 2012 for a full term.
Caroline Kennedy's emergence last week as an active campaigner for the seat pushed the boundaries of what constitutes an acceptable level of open lobbying for an appointed post.
The implications bother Lerner. They also bothered the editorial board of USA Today, which wrote Monday that "as accomplished as Kennedy might be, there's something distasteful about the prospect of handing her one of the most powerful jobs in American politics largely on the basis of her celebrity."
State Senator Joe Griffo announced Monday that he would re-introduce a bill which stalled in the last legislative session, calling for the direct special election of the comptroller, attorney general and now U.S. senator in the event of a vacancy.
"New York and Illinois have received the lion's share of press regarding their open seats, which have spurred calls for taking the process out of one person's power – a one-vote 'election' – and returning it to the people," Griffo said in a press release. His fellow upstater, Niagara County Republican Chairman Henry Wojtaszek, said that opening up the process would help enfranchise candidates from his region. An upstater has not represented New York in the Senate since 1968.
In the state's lower chamber and on the opposite side of the aisle, Assemblyman Michael Benjamin endorsed Kennedy and called for the creation of a screening commission to vet potential candidates and let the governor decide, similar to the system in place for picking judges. (That system is hardly problem-free.)
"Illinois and New York have shown us that the unilateral, gubernatorial power to make such a highly desirable plum patronage appointment is too awesome a responsibility (especially in the wrong hands) for any single state executive," Benjamin wrote in a more-contemplative-than-normal press release. "Governor David Paterson is so chagrined by the efforts of the New York Senator wannabes that he has pegged it as part and parcel of a "reality TV" culture gone wild. All of the New York contenders seem to have publicists."
Not to say the situation in Illinois doesn't make New York's political world seem squeaky clean by comparison.
Paterson alone will make the decision – a fact pointed out often by interested parties by way of punting on the issue.
The governor was asked about a month ago whether he would open up the process to include an advisory panel of sorts. "The process becomes more of a problem than the selection because, how many people would you need on a screening panel for everyone in New York to be happy?" Paterson said just before Thanksgiving.
"But we will be consulting with people who have served in the Senate before, people who are civically minded, people who care about the state and just regular citizens like many who are here today."