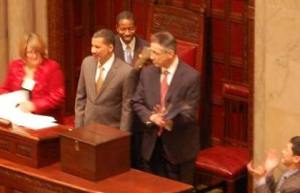 ALBANY—Today's the day.
David Paterson will reportedly release a $121 billion spending plan that calls for new taxes and new fees as well as steep cuts to education and healthcare programs. Paterson must bridge a deficit over $15 billion.
"I think, really, what's crystallizing with lawmakers and the public and many of you who cover us, is how staggering this deficit is," Paterson said Monday. "In our original budget plan we had no increases and we are not creating an across-the-board income tax, which is one thing I said I don't want to do. However, some of the fees, which could be interpreted as taxes, are coming from the fact that when we first wrote our plan, when we estimated the budget deficit at $8 billion back in October. We had to find another way to find another $7.4 billion in deficit reduction. And these are just some of the directions that we have taken."
The budget has a rough road – State Senator Malcolm Smith, the leader of the Senate's Democratic conference, has already said he will fight to preserve necessary programs, and Republicans in that chamber oppose tax increases. As does the G.O.P. party establishment.
Paterson seems less than enthusiastic about the process ahead.
"We're all going to end up losing support from this budget that we usually had, and we're going to be very chagrined to do it," he said. "If the legislature does not think that that's the right way, then we're going to negotiate, we're going to talk to them about it. But as they remove some of the ideas that we're presenting, they have to replace them with real and recurring revenue reductions. You can't just say you don't want this or that."
Here's a quick roundup of some more specific hints the governor and his staff have let slip, as well as other ideas floating around town.
The governor has proposed:
–A tax on sugary drinks. This could raise up to $400 million.
–Collecting taxes on cigarettes sold at Indian reservations. Paterson signed a measure designed to crack down on derelict sales Monday, and it could reportedly raise up to $400 million a year. But industry representatives say it will likely not work, because the law it seeks to stiffen is not enforced.
—Sales tax on clothing and higher fees for miscellany.
—Reductions in school aid. Paterson proposed $800 million in mid-year savings last month, and every indication is that this round will be more drastic.
—Expanding the bottle bill. This, too, was included in special session proposals last month, and is expected to be in the proposed budget today. It could bring in $118 million.
—Reducing health care spending. Top aides to the governor say this is certainly on the docket, but how deep the cuts will be is unclear. Total spending on Medicaid last year was $47 billion.
—Re-open state labor contracts. Paterson tried this before and didn't get very far, but it could save $122 million.
Other ideas floating around include:
—Consolidate local governments. Stan Lundine, who led a commission to look at this topic, conservatively estimated there could be $1 billion of savings here.
–Eliminate the Empire Zone program. The Schuyler Center for Analysis and Advocacy estimates this could save $582 million a year.
—Reduce state reliance on private contractors. This counter-proposal put forward by the Public Employees Federation could raise $100 million this year.
—Legalize mixed martial arts. Supporters of this idea don't have a firm dollar figure supported by reliable analysis. But just think of the headlines. 
—Raise taxes on the rich. Fiscal progressives have long pushed some kind of program like this, and on Monday a letter signed by over 100 economists was sent out saying it was a good idea. It could generate as much as $5 billion. Paterson is not likely to introduce the proposal, but legislative leaders could.