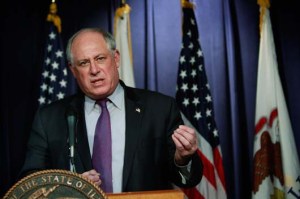 Pat Quinn's moment is about to arrive – finally. Illinois' lieutenant governor, who has toiled for decades in the less visible rungs of state politics, will ascend to the state's top job whenever Rod Blagojevich steps down or is dragged from it. (Does anyone seriously believe that Blagojevich, arrested by federal agents before Christmas on suspicion of massive corruption, will actually survive the final two years of his term?)
Making his second national television appearance in three weeks, the 60-year-old Quinn forecasted on CBS's "Face the Nation" that Blagojevich, his sometime rival over the years, will be impeached and convicted by the Illinois legislature before Abraham Lincoln's February 12 birthday.
There's really no reason to doubt Quinn's assessment, given Blagojevich's legal position and the complete lack of public sympathy for his plight. The only question seems to be whether the governor will tough it out all the way through an impeachment inquiry or fall on his sword before he's officially expelled from office.
Read the rest.