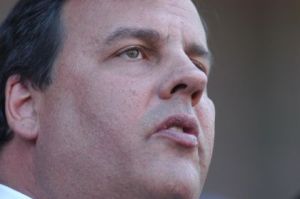 His 1995 swearing-in ceremony marked an auspicious beginning for Freeholder Christopher J. Christie, who raised his right hand to take the oath of office at the prompting of former Gov. Thomas Kean.*
If Christie was still relatively unknown in Morris County Republican politics, the considerable presence of Kean at the reorganization meeting six months after he ousted incumbent Cecilia Laureys in the GOP primary turned some heads.
Soon more people would know the freshman freeholder, although to hear observers tell the story – thirteen years removed from the initial pomp of the Kean triumphal – Christie didn't exactly overwhelm the Morris County Republican organization. It wasn't that he didn't get government or arrived at freeholder meetings unprepared
That wasn't it at all.
He just appeared unusually ambitious, particularly when, just two months into his first term as a freeholder, he announced his intentions to run for the State Assembly. He said he'd accomplished all he needed to at the county level and that it was time to move on to Trenton.
His colleagues saw that as a particularly audacious move.
Christie wasn't from Morris County, after all, and to the old dog wing of the party, if his Essex County roots weren't transgression enough, the challenge epitomized bad form.
Christie teamed up with attorney and legislative aide Richard Merkt to run against incumbent Assemblyman Anthony Bucco and attorney Michael Patrick Carroll. (Seven-term Republican Arthur Albohn was retiring).
"It was the worst political decision I ever made," confesses Merkt. "We spent too much money. I listened to the political pros from Trenton. Being something of a novice at the time, I was dumb enough to believe them. The campaign message was Bucco was a has-been."
Although he was filling an unexpired term left by newly-elected U.S. Rep. Rodney Frelinghuysen, Bucco was no newcomer, having already built an impressive base the old fashioned way– first as an alderman then mayor in Boonton, then as a Morris County Freeholder. With his God and guns credentials, Carroll boosted the duo's numbers in western Morris County.
Meanwhile, Merkt and Christie, coming out of the same region of Morris – indeed the same town, Mendham – with comparatively little name ID, couldn't generate the support they needed.
"I came in a distant third and Chris came in after me," recalls Merkt. "It was a chastening experience. Our advisors said to go after Bucco, but they didn't understand Bucco's popularity. He was a glue salesman who worked his way up. He had a lot of blue collar appeal. Our advisers completely missed that."
After the loss, Merkt chopped away at the debt he accrued during a costly campaign, went back and worked at building a political base and, running alone for an assembly seatin 1997, beat John Inglesino by 223 votes.
Christie's political success proved more elusive.
By a long shot.
When it came to the freshman freeholder who'd dared to run against Bucco, decorum-conscious Republicans were hardly in a mood to laugh off his campaign as the rambunctious chest-thumping of a rising young GOP star.
Determined to get rid of him, they sought out another young politician in 1997, someone already building a name for himself as the charismatic, thirty-something Republican mayor of Morris Township.
John Murphy.
When Bill Palatucci, Christie's law partner and chief political handler, heard the old guard was grooming Murphy to run, he warned the Morris Township mayor that Christie wouldn't appreciate a challenge.
"You know how aggressive Chris can be," Palatucci reportedly told Murphy.
|
That got Murphy's Irish up. He didn't want to be told he couldn't run against Christie, and so he ran against him, leading a team of GOP candidates.
No one was surprised when Murphy went straight for Christie, who ran with incumbent Jack O'Keefe.
The campaign was ugly, and one Murphy ad in particular questioned rather bluntly Christie's handling of tax dollars. That ad would later prompt Christie to sue and earn an undisclosed settlement against Murphy and campaign consultant David Murray.
But he couldn't stop the damage on Election Day.
Along with O'Keefe and the rest of his mates, Christie lost his reelection to Murphy by a vote of 2-1, a crushing loss by any measure.
"I remember when he first got involved. He had the youth factor at the time," remembers former Roxbury Mayor Jim Rilee. "He was trying to shake things up. He was very ambitious. He went for the gusto except that it didn't translate – at least not then."
Despite the political stumbles, "He was an effective freeholder," Morris County Freeholder Jack Schrier says of Christie."One thing he did was he required as policy that the freeholder board go out for three quotations even on no-bid contracts. Without imposing as a requirement that the freeholder board take the low bid, he required that they get at least three quotes from qualified firms. He was often at odds with the board, but he was always very concerned about the taxpayer."
His career as a young county elected official was over, but after one term in office and his several unsuccessful battles with the party organization, Christie was about to embark on a second, and ultimately more fruitful career in politics: as a fundraiser for future President George W. Bush.
CORRECTION: State Sen. Joseph Kyrillos (R-Monmouth) swore Christie into office in 1995; Former Gov. Thomas Kean sworn Christie in two years later as freeholder director.