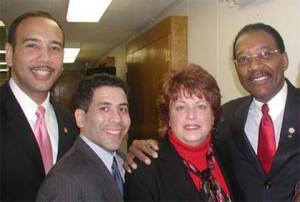 ALBANY—Another holiday with the Diaz's.
Fresh off his Thanksgiving event, Senator Ruben Diaz Sr. and his son, Assemblyman Ruben Diaz Jr. are hosting a Christmas party for lots of people Friday night in the Bronx.
As the elder Diaz remains uncommitted in the struggle to lead the State Senate, we may see a repeat of the big political names that stopped by to pay their respects last time.
I asked Diaz Sr. earlier about the event, and he said he expects 500 people but "I don't know exactly who's coming."