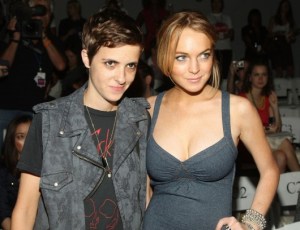 As with many people around this time of the year, Lindsay Lohan is under a bit of stress. First of all, it now looks like girlfriend Samantha Ronson's recent hospitalization may have had something to do with a "nuclear" screaming match the couple had in their Los Angeles home. Immediately prior to Ms. Ronson's hospital visit, the two were reportedly up "wailing, with lots of obscenities" until 4 a.m., breaking glasses and exchanging jabs like "You never say you love me."  
This morning, in a pathos-heavy Christmas Eve Myspace dispatch, Ms. Lohan got reflective:
"i think that people go through a lot in life. and the things that we go through, whatever they may be, simply just make us stronger in the long run… that is, if we actually take what it is we have learned from our mistakes and teach ourselves what NOT to do in the future. i have gone through a lot in my past, and to be completely honest, i am still going through a lot right now.."
Also, in a traditional holiday move, it seems that dysfunctional father Michael decided to bring up that love child we were hearing about this summer:
"my father just let my family and i know, amongst others that he had another child after my little sister
Aliana
, or maybe he had it before Aliana?? either way, he cheated on my mother and that really sucks… MERRY CHRISTMAS!!! wow- do i sound like 'debbie downer' or what?"
She also included a shout-out to sister-in-arms Britney Spears, who "is an amazing talent and she has gone through a lot, (just as i have) in the public eye…which is not necessarily a bad thing.. It teaches young girls and boys that there are certain things in life that you should not let get in the way of your dreams and accomplishments."
Singing off, Ms. Lohan is sure to note that she will be spending Christmas in LA with Ms. Ronson. In a post script, she encourages readers to check out some of her favorite songs from Ms. Spears's new album. Among them, not surprisingly, is "Shattered Glass."