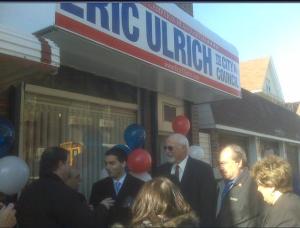 Yep, that's Tom Ognibene, the Republican who ran a primary against Michael Bloomberg in 2005 (and more recently lost a City Council primary), at this morning's campaign kick-off event for Eric Ulrich, who is running for City Council.
Ulrich, also a Republican, is running for the seat being vacated by Joe Addabbo, the City Councilman who just ousted Republican State Senator Serph Maltese. Also running for Addabbo's seat is Frank Gulluscio, a Democrat who worked for Addabbo.
Ulrich is 23, Gulluscio is 60, and they've both spoken about the age advantage one has over the other. Also running for the seat are two Democratic district leaders from Far Rockaway, Geraldine Chapey and Lew Simon.
The photo was passed along by a Republican reader who hopes his party can pick up that seat.