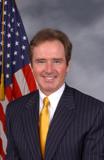 ALBANY—Representative Brian Higgins is the New York delegation's choice to take over a spot on the powerful House Ways and Means Committee, filling a seat vacated by retiring Representative Mike McNulty, another upstate Democrat.
According to a congressional staffer, Higgins expressed interest in the seat last month during a meeting of the New York delegation, whose approval is a necessary hurdle to take the slot. (Another spot as freed by the retirement of Tom Reynolds, a Buffalo-area Republican.) The Democratic Steering and Policy Committee will ultimately decide who fills the seat.
Higgins said in a statement:
Both seats lost will be from upstate New York, the area I represent and an area that, like many communities in the northeast, has experienced substantial economic difficulty for some time.

I have expressed interest in seeking a seat on the Ways and Means Committee because it has jurisdiction over important economic development programs.  During regional Democratic Caucus meetings, I was fortunate to earn the unanimous backing of the New York Delegation for this appointment.  For that honor and for their confidence, I am tremendously grateful to my colleagues.

I have been reaching out to members of the Democratic Caucus' Steering and Policy Committee to seek their support, and I am pleased to say that I have received nothing but encouragement and support from the committee members with whom I have spoken.
It would be an interesting move for Higgins. While spots on the committee are a coveted prize in Washington because they offer the ability to steer funds toward pet issues or projects, it might make Higgins a less attractive candidate for an even greater prize: the Senate seat being vacated by Hillary Clinton. (Higgins' name has been on many short lists, and is being pushed by pundits and politicos I've spoken with in western NY.)
David Paterson has refused to comment publicly about who he might appoint, except to say that he's talking with a number of people and weighing a number of factors. Conventional wisdom has it that he must consider what behooves him politically and maintaining racial, gender, and regional balance.
Last night, Erie County Democratic Chairman Len Lenihan publicly endorsed Higgins, saying, "I simply believe that an upstate voice is critical at this point in time, and I believe that Congressman Brian Higgins is the right person at the right time." (Incidentally, that's a blow to Buffalo Mayor Byron Brown, whose name has also been circulating.)
But if Higgins secures a slot on Ways and Means, it could be seen as an olive branch observers say needs to be extended to upstaters, although he would be replacing another upstater, McNulty, who comes from the outskirts of Albany. (Not to oversimplify and imply that Albany and Buffalo are part of one happy, healthy, homogenous upstate region).
Other upstate candidates in circulation for the Senate seat include Representatives Kirsten Gillibrand and Louise Slaughter.