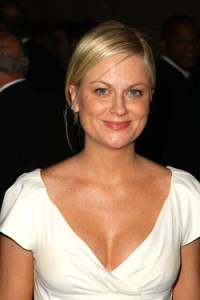 In the new film The Mystery of Claywoman, about a 500-million-year-old woman/prophet everyone seems to be looking for, Amy Poehler appears in a series of sketches for the film with Debbie Harry as her French lesbian lover who writes a book about Claywoman. The film, which was written and performed by Michael Cavadias and directed by Rob Roth, screened Sunday evening at the Wild Project in the East Village to a crowd that included singer-songwriter Rufus Wainwright and actress and model Amanda Lapore.
"Here's my quote," Ms. Poehler said. The night before she had bid farewell to Saturday Night Live during her Weekend Update segment. "It's a feel good story–it's the feel good existential one man show of the year."
We spoke about Smart Girls, her Web show with Amy Miles that celebrates "girls who are changing the world by being themselves."
"Amy's in that too!" Ms. Poehler said, swinging to the side introduce Ms. Miles, who had one arm in a sling. She waved at us with the other.
"We're so thrilled it's out there and people are watching it," Ms. Miles said, smiling. "We're excited that we put something out there that is like something I would have wanted to see at that age. And we're representing girls that we kind of were because you don't really ever see that."
"Just normal girls, just regular girls," Ms. Poehler said, shaking her head.
We asked if she wanted to tell us anything about SNL.
"No, no…" she said, laughing. "No, I'm just psyched to be here and this is a really cool trippy show and Michael is a good friend of mine, and is a transformative preformer and so I was happy to be even included. Look, if anybody asks you to do something with Debbie Harry, say yes. My 14-year-old version of myself can't believe that I got to meet Debbie Harry."